YOU EXPERT GUIDE TO FREE CAMPING POWER OPTIONS
We've gathered the nation's leading experts to answer the 30 biggest 12V questions
WORDS AND PHOTOGRAPHY BY CARAVAN AND MOTORHOME ON TOUR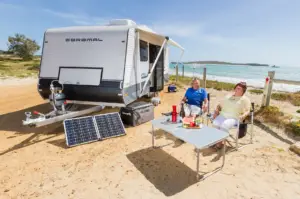 As more and more of us are hitting the road and heading to the wonderful freedom camps on offer in Australia, we're discovering a greater need for successful power options for our setup, especially those that don't have a 240V power source.
Possessing the right power solution for your travels can be the difference between getting off the beaten track to the peaceful free camps, and having no choice but to head for a caravan park in town.
With van power being an issue shrouded in confusion and questions, we thought there could be no better way to help out than give you unrestricted access to the nation's leading 12V and power experts. We're talking auto electricians with decades of experience that have seen and solved every problem under the sun, and some of the van industry's leading technicians. Overall we've got nearly 150 years of van power knowledge and experience in this one feature.
From batteries to solar to generators to lighting – we've covered everything to ensure you get the best advice possible before setting up your dream power solution. Let's take a look at what our experts had to share with you.
Before you enjoy your travel with the convenience of this dream power solution, don't forget also to prepare your prepaid
travel SIM
 from Sims Direct. It will help you in terms of data coverage and cell service.
MEET OUR EXPERT PANEL
The nation's leading experts – over 150 years of van power experience here to answer YOUR questions!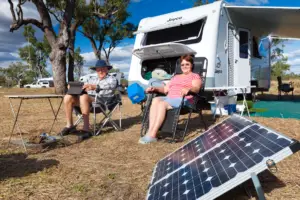 DENNIS DWYER – PIRANHA OFFROAD
Piranha Offroad has been helping RVers and travellers achieve their 12V dreams for over 25 years now. One of the real drivers of this is Denis Dwyer – there's not a 12V problem Denis can't solve!
JOSEPH VAN WOERKOM
There's no need to introduce Joseph – those of you that have followed CM know just how experienced this man is in the world of 12V. His previous guides on solar panels and generators have been enthusiastically received, and he stopped in recently to share a bit of extra 12V knowledge with you for this feature.
LES HICKS – EXIDE BATTERIES
Those that have a bit of 12V knowhow would know the name Exide is synonymous with quality batteries. Exide has been at it since 1935, and are one of the leaders in battery manufacturing in Australia. Les Hicks has been part of the battery industry for 25 years, and knows battery technology inside and out.
CHRIS McCLELLAN – ENERDRIVE BATTERY MANAGEMENT SYSTEMS
Nobody knows battery management and innovative new power systems like Chris McClellan. Enerdrive are one of the market leaders in caravan and camping power systems, specialising in inverters, management systems are a whole range of other innovative gear.
MICHAEL MEDARIS – GENERATOR PLACE
Generator Place have been at the forefront of generator sales in Australia over a decade. At the head of this is Michael Medaris – he has sold every gennie under the sun, and has an answer for every question under the sun.
COLLYN RIVERS
To list all of Collyn's achievements in the world of 12V and solar would be a magazine in itself. Author of the very popular Caravan and Motorhome Book series, Collyn is a rich source of knowledge about solar power.
DAVID PREEDY – HELLA AUSTRALIA
Hella is a name that has been around the recreation lighting market for what seems like a lifetime. You might align the name more with quality spot lights, but did you know they've been providing lighting systems to a huge range of big players in the caravan manufacturing industry? David and the team Hella know their stuff when it comes to LED lighting.
MARK WISE – NORTHERN RV SERVICES
Northern RV Electrical have over two decades of experience in the industry, and are contracted to many of the leading caravan manufacturers in Australia. Mark is a fully qualified A-Grade electrician who prides himself on high standards and quality workmanship. You won't find too many people with more experience than Mark working in van electrics.
STEVE PAP – ACE AUTO ELECTRICS
With 25 years of experience being an auto electrician, Steve is now specialising in solar setups for vans. Steve has installed countless setups on vans over the years, and has also dealt with pretty much every solar problem under the sun. There's not much this bloke doesn't have an answer for!
SOLAR SECRETS REVEALED!
We answer vanners' most pressing solar and 12V questions
READER'S SETUP – LINDA AND GRANT
"We have 360W of fixed panels on our RV roof and 1 x 80W portable panel. This feeds a bank of 400Ahbetween the vehicle and the caravan, which is ample storage for us to run our accessories and 12V appliances for 7 days or longer.
To help us save power with our fridge, we freeze 2L bottles of water, which thaw out over a couple of days and act like ice in an esky. We also do all of our charging requirements during the day while the solar is working a treat."
WHY ALL VANNERS SHOULD RUN SOLAR
There's no better investment for your van than a decent solar setup. The initial cost can be a little daunting, but if you divide that by the amount of days you spend free camping, or filling up a generator, you will soon be well and truly in the black. Harnessing the power of the sun is efficient, cheap, and great for the environment. It also means you're not limited at all in your travels – you can stay in free camps, and camps where gennies aren't permitted. Lastly, with the recent developments in solar technology, it's cheaper and easier than ever to get your dream setup.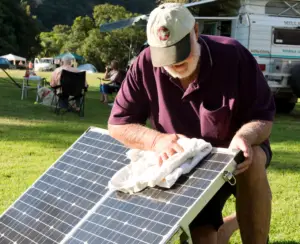 YOUR QUESTIONS ANSWERED!
Is it alright to leave a solar panel hooked up to the battery when I'm not using any accessories? – Lillian
You should have no dramas as long as you are using a high quality solar regulator. If not, doing this may wreck the battery. Cheaper regulators may overcharge your battery, while the quality ones will safely float your battery at the right voltage. – Collyn Rivers
I have two 110w panels on the roof and two 105 ah batteries. I have noticed a drop off in power on cloudy days. Would you add batteries or panels first to the setup?
You should expect about 10 amps current input from your two panels and about 150amps usage out of your two batteries. If the fridge and accessories are using more than 10 amps per hour, overnight it will flatten the batteries. In this case I would recommend measuring the whole system, and add one panel and one battery. On a cloudy day you'll be hard pressed to get 5 amps out of the panel – it just won't keep up – so you need to allow for this. The key is knowing the usage: then it's a simple maths calculation. – Steve Pap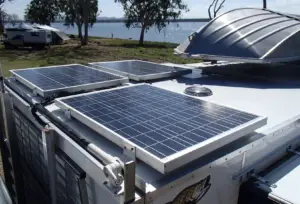 What's the difference between the PWM and MPPT solar charge controllers? And what are the pros and cons of each?
While both of the controllers will charge your batteries efficiently, the MPPT looks for the maximum amount of charge amps that the panels can deliver (or is Maximum Power Point). PWM modules regulate charge by switching panel output on and off rapidly. While PWM is a quality low-cost option, MPPT is far more efficient. MPPT controllers are typically more expensive and in many caravan applications where energy efficiency is not as important as in the home (as many set ups have the batteries going to float around lunchtime), the difference in cost is not always justified. – Chris McClellan
We need to run a CPAP machine, what solar solution do you suggest? – Cheryl
Running a regular 18W sleep apnoea machine for eight hours overnight will require about 18amp hours, so a 100Ah battery will give you almost three nights of running time without charge. (Under the impression you have 50% of usable capacity of your battery). You either need to factor this usage into your current setup, or if you're starting off, we suggest have 100Ah of usable battery power (2 x 100Ah batteries), and 180W of solar input. It needs to be reliable – this will get you 5 days or more of use without power. – Collyn Rivers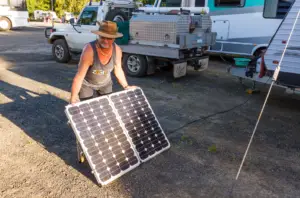 EXPERT'S GUIDE: HOW TO GET THE PERFECT SOLAR SETUP FOR YOUR VAN
READER'S SETUP – RUTH AND ALLAN
"We run three 135W panels and three 120Ah AGM batteries, plus a Redarc 108W solar blanket, which helps us on the batteries in the 4WD. A 12V C-tek Car Charging system ensures that the batteries are kept fully charged even on the dullest of days when moving around. A 2KVA Honda Generator is our backup for extra hot days where we need to run the air conditioner.
The best way we've found to save power is to ensure all lighting is LED – they use up to 85% less energy than halogen, are cheaper and last longer – it's a no brainer!"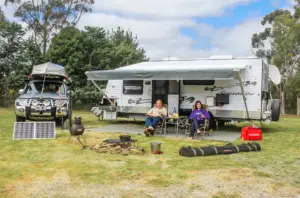 OUR HANDY CALCULATION CHART – 12V MADE SIMPLE!
It was without doubt the 12V issue that was seen as the most confusing by readers, but matching your battery up to the right-sized solar setup is the key to having endless power at camp. However, it's easier said than done – there are a number of variables that must be calculated to ensure your battery bank goes the distance. This means there is no set 'ready reckoner' or calculator that can be trusted, so we got our leading solar experts to explain their thoughts and theories on the best way to calculate the right panel for your setup.
A SIMPLE CALCULATION
The most simplistic model would assume that the solar panels are generating the specified power and that the power conversion from solar panel to battery is 100% efficient. The resulting conversion equation is Solar Panel Power (Watts) divided by Battery Voltage (Volts) = Charging Current (Amps). The amount of energy (amp-hours) being stored in the battery would then be this current multiplied by the number of hours that the panels are in the sun. To give you an example, a 120W solar panel would theoretically give you 120W/12V = 10A of charging current. To charge a 120 amp-hour battery from 50% to 100% (60 amp-hours) this current would need to be available for 60 amp-hours/10 amps = 6 hours. So you need 6 hours of full sun to charge your battery completely.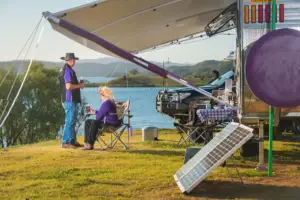 3 SETUP OPTIONS PERFECT FOR YOU
Bare Essentials
160W of Solar + 10A PWM Regulator + 200Ah battery bank = $800-$1200 + install
Intermediate
240W of solar – 30A MPPT Regulator – 240Ah battery bank = $1200-$1800 + install
Long-term free camper
360W of permanent solar – 120W of portable power – 60A MPPT Regulator – 300Ah battery bank = $2200-$2500 + install
THE 'MONEY IN THE SAFE' ANALOGY- Collyn Rivers
Think of amps like money coming in and out of a safe. You have to have enough room in the safe to store your money before spending, but having a bigger safe isn't going to help. Batteries are like that, but worse, because batteries lose some amps put in, and the bigger they are the more they lose. Putting this into solar terms, it's no good having a battery too big for your solar panel – ideally limit battery capacity to that which is fully charged most days by midday. Now is also the time to take advantage of the cheap solar setups on the market.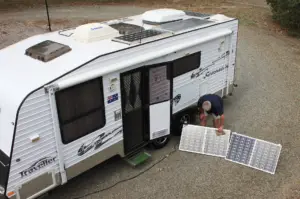 THE BIGGEST CONSIDERATIONS
• The components of a well-designed solar power system for RV use will usually be selected to ensure that the house batteries can be recharged from 50% to 100% in one day of uninterrupted sunshine.
• Solar panels only produce their stated power in full sunshine when pointed directly at the sun. Since most RV panels do not track the sun (indeed most are fixed in position) the best you could probably hope for on a long term average would be half of the rated output.
• The conversion efficiency from solar panel power to battery charging voltage is dependent on a number of factors, the main one being the type of solar controller being used. The most efficient type use MPPT technology, which can achieve around 95% efficiency compared to standard solar controllers which give 70% efficiency at best.
• The electrical resistance of power cables and connectors can easily lose another 10% of the available power.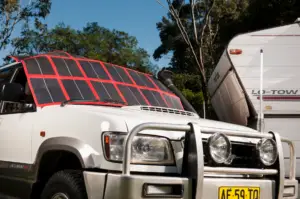 GENERATOR POWER – THE MOST RELIABLE POWER SOURCE?
ARE YOU DAMAGING YOUR GENERATOR? 5 EXPERT TIPS FOR BETTER EFFICIENCY
1. Use premium fuel (95 or higher).
2. Never store fuel for longer than 2 months. Turn fuel over regularly or use a product like 'Stabil' to extend the fuel shelf life.
3. Ensure oil is changed regularly and kept at the recommended level.
4. Never run the unit in an enclosed area – always ensure there is adequate airflow and the unit is run at the recommended temperature.
5. Regularly check and clean your air filter.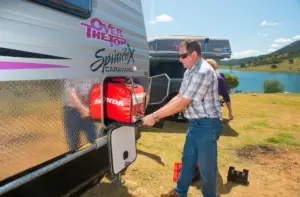 YOUR QUESTIONS ANSWERED
What generator size is required to run an air conditioner? – Christine
Air conditioners will pull about 1500W max, so you need to be able to handle this, plus your other accessories of course. A good quality inverter generator with a max wattage of 2000W would do the job – the key word there being "quality". – Michael Medaris
Hi, I've got a Honda gennie that won't run our air con for more than 40min before the overload cuts it off. I have a friend with the same van, air con and generator and theirs runs with no problems. Any ideas? – Richard
When an a/c unit switches from refrigeration to fan, gas pressure sits in the head of the a/c unit, and if the a/c unit tries to cycle back to refrigeration with gas pressure still in the head, it can need up to 6,000 watts to successfully kick the a/c unit back in. You want to prevent the a/c unit from cycling – turn the thermostat on the a/c unit as low as possible, that way the a/c unit will just continue to run without cycling in and out. – Michael Medaris
My 2.4 gennie runs A/C and hot water, but stops when the coffee machine is plugged in – what could be causing this?
Quite simply, the generator is overloading as you have in excess of 2,400W running. A hot water system can be as high as 800–1600W, the A/C 1000-1500W and a coffee machine is around 1100- 1600W. So added together the power requirement would be well over 3,000W. Your options are either upgrade your gennie to handle the load, or reduce the load on the gennie at one time (turn A/C off when you make a coffee). – Michael Medaris
HOW DO YOU KNOW WHAT SIZE GENNIE TO RUN?
It is as simple as adding up all of the wattages of the items you want to run, and ensuring it comes within the max wattage output of the selected generator. If you are unsure, then you can always have an electrician to measure what is being drawn from the caravan/motorhome. Consider that items such as pumps/ air compressors/pressure cleaners require a start-up power that needs to be covered by the generator, as it is not a split second start-up like an a/c unit on a caravan. – Michael Medaris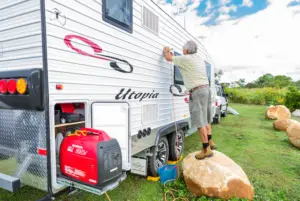 3 BIGGEST CONSIDERATIONS BEFORE BUYING
WEIGHT & SIZE
It's always a constant battle to keep weight down in vans, so while it's good to have the most powerful gennie on the market, sometimes it's a smarter idea to sacrifice power and lose weight.
NOISE
The last thing you want is to disturb your own or your neighbour's night with a noisy generator. If you're out in the middle of nowhere it won't be a problem, but at close quarters it needs to be considered. It's often the smaller generators that are the quietest, but it's important to the find the right balance for your setup.
AC OUTPUT
The reason we use gennies is to replace mains power, so it's important for the generator's output to be indistinguishable from mains power in both voltage and frequency. A quality generator will run as close to the 230V level of nominal mains power – big spikes high and low can cause damage to appliances.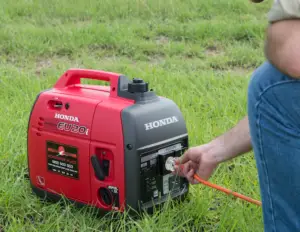 BATTERY TIPS AND TECH – GET AN EXTRA WEEK OUT OF YOUR SETUP!
Now you know your options, here's how to get the most out of your power setup
USE IT OR LOSE IT – HOW LONG CAN A BATTERY STAY DORMANT?
First of all, if you plan on storing your battery for than a couple of days, ensure it is fully charged. Leaving it dormant at any less than 100% charge can cause irreparable damage. A fully charged, isolated battery can be safely stored for up to three months. Any longer without power in and power out can affect battery performance. Remember, batteries only really have a life of about four years – you need to do what you can to ensure it goes the distance. Lack of care can cut that time in half.
5 MOST COMMON DIY MISTAKES, AND HOW TO AVOID THEM
1. Poor, dirty connections
2. Not correctly securing batteries
3. Installing the wrong sized battery charger
4. Running the wrong-sized solar panels
5. Not correctly fusing wire, or running wiring that is too thin
ARE LITHIUM BATTERIES THE FUTURE?
While lithium batteries have been around since the 1980s, in more recent times they have advanced to being used in automotive recreational use, especially in caravans and motorhomes. The advantages are clear: lithium batteries are smaller, lighter, have more power, and last longer – not to mention having a longer shelf life. The downside is still the price for equivalent amp hours and the strict charging parameters. No doubt this is battery technology to keep a very close eye on as it is developed more and more into a commercial product. It could very much revolutionise the way we travel!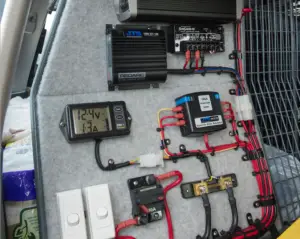 WHERE DO YOU STORE YOUR BATTERIES IN A VAN? 
The best place to store a battery would have to be mounted on the external caravan chassis. Batteries from time to time have been known to get quite hot and even leak. Good quality battery boxes are readily available and having them mounted externally minimises any risk and also doesn't take up any storage room. Some manufacturers prefer to install them in the front boot which is also a good option, but it does take up some room especially if you are running multiple batteries. – Mark Wise
5 TIPS FOR MAKING YOUR BATTERY LAST
Les Hicks – Exide Batteries
• Keep the battery fully charged and ensure it has clean and dry surfaces.
• Do not store batteries in a part- or fully-discharged state. Recharge the battery within 24 hours of discharge.
• Maintain electrolyte levels on serviceable batteries. The plates should be always be covered by electrolyte.
• Avoid deep cycling on starter batteries. Run your 12v accessories of a dedicated deep cycle battery.
• On deep cycle batteries depth of discharge should not be greater than 50%. Any further can cause longterm damage.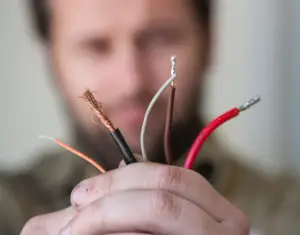 YOUR QUESTIONS ANSWERED!
Is it better to earth accessories to the chassis or the battery?
12V Direct Current earths are the cause of many electrical dilemmas in tow vehicles and vans. It's good to earth our accessories to our main or auxiliary batteries, but when there are many accessories and depending on the distance it is often more convenient to earth to the chassis/body. However you will need to ensure the main battery is earthed to that chassis and body.
This can be achieved by using a 13mm2 black cable that runs from battery to body and another lead from engine to chassis. Now we can earth to body or chassis elsewhere in the vehicle or van without running twin core cable. Remember tub bodies are often not earthed, as they sit on rubber mounts, so you can earth tub to chassis using the same black cable. Earthing accessories to body can be an issue so make sure you clean back to metal to get a good earth.
Remember all earth cables should be the same diameter to your positive wire. If you're fitting 10mm positive, you need to fit 10mm negative to your earth. – Denis Dwyer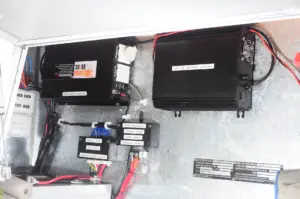 Is a special isolator required for running a triple battery setup or do you just wire the two aux batteries together?
This is becoming more common as our reliance on electrical accessories grows. Most good quality electronic battery management systems will handle two auxiliary batteries up to a total of 180- 200Ah. So the management system goes between the main (starter) battery and the first auxiliary and the second auxiliary is then parallel connected to the first auxiliary. Usually the main issue is finding the real estate to locate your second auxiliary and if this ends up being some distance away from the 1st auxiliary you may have to consider a DC/DC charger in between to gain back the voltage if it drops over the distance. – Denis Dwyer
RV LIGHTING MADE SIMPLE
DAVID'S 3 TOP LED MOUNTING POSITIONS
1. Mount one on the rear of the van, and hook it up to the reverse light circuit – great for manoeuvring in the dark.
2. Run some strips on the steps up into the van – a great safety option.
3. Grab a rope of LED and run it across the front of your awning – nice ambient light for entertaining.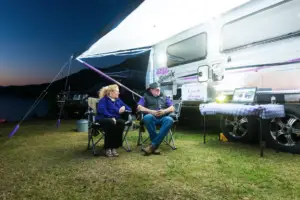 WHY UPGRADE TO LED?
LED Technology has enormous benefits, the most obvious being the reduction in maintenance requirements. Users are able to significantly reduce servicing downtime, as there are no globes to burn out or holders to corrode. LED lamps operate with up to 80% less current draw than comparable globe lamps and remain fully operational under severe cold, heat, humidity and vibration. This is one upgrade that you won't regret. – David Preedy
YOUR QUESTIONS ANSWERED!
What is the best colour LED to run inside the van?
Choosing an interior lamp can be tricky. You want a colour that makes you feel relaxed, not as though you're in a dentist chair. Until recently the lack of high quality white LED with sufficient intensity has been a major factor preventing the choice in comfortable LED lighting. When selecting LED interior lamps it's important to consider what the colour temperature is, as brightest is not always best. Dimmable white LEDs work well. – David Preedy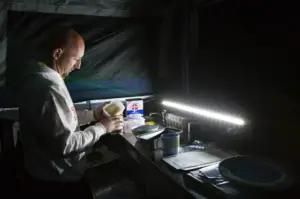 We have a Sprinter motorhome that works great on 12V, but our power points only work with 240 power. How can I convert to use power points on 12V?
The best way to convert your 12V power to 240V power is via a 12V-240V inverter. These are readily available but we would recommend it be installed by a licensed electrician. The smaller versions can be used to power up only one power point if you need to charge a phone or laptop, but there are bigger versions that can run your whole van on 240V circuit.
FOR PARK STAYS – AVOID ELECTRICAL MELTDOWNS
The best way to avoid 12V van fires is to have your van wired or at least checked by a professional or qualified person. Most 12V van fires are caused by poor workmanship. Secondly, making sure the fuse ratings are correct for the cable size used in your van wiring. If you are to replace a blown fuse, you must make sure it is replaced by one with the same or lower amp rating. Fuses are the to protect the wiring, so never replace a fuse with a higher rating because if there is a fault in the circuit and the fuse doesn't blow the cable will melt, potentially ending in a van up in flames.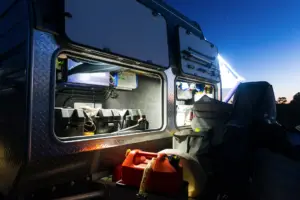 TELL-TALE SIGNS OF DODGY DIY WORK
When buying a used RV you always want to be on the lookout for dodgy DIY electrical work because it can quickly turn ugly. Things to look for are the use of extension leads and power boards throughout the caravan that have been added after manufacture. All vans are wired with correct size wiring and circuit protection, and adding to these circuits can cause overload and potential fire risk. Always check that the correct circuit protection is in place before using the van.
It is recommended that you have your van checked over by a qualified electrician. Also, if you see any cables run in cupboards or under beds, it would warrant further investigation. It is not common practice to have any cables exposed.
WHY YOU SHOULD NEVER USE HOME-MADE EXTENSION CORDS
Caravans need to be powered up with the correct 15Amp extension leads or risk having power issues and cable overload. The 240V circuit in your caravan or motorhome should be protected via a 16Amp RCD, which this follows the wiring regulations across Australia. The minimum size input cable must be 15 Amp – if a cable with a smaller rating is used you run the risk of melting the cable before the 16Amp RCD trips. The use of poor quality and incorrect extension leads can be fatal. It can also make you liable for any damage and will not be covered by any insurance company. It's not worth the risk – buy a quality lead! – Mark Wise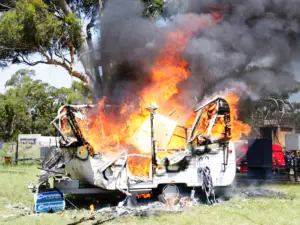 BEST POWER OPTION FOR YOUR BUDGET
Well there you have it – 12V features just don't come as detailed. Never before have so many experts been gathered for one article. Before we leave you to ponder and upgrade your van power system, we will have our final say on a few important considerations you're going to have to make.
SOLAR VS GENERATOR – WHICH WAY DO YOU GO?
There's no harder question to answer – there are so many variables at play, but let's try to break it down. Overall, the right solar setup is the perfect option, but it has to be right. If you want seven days of remote camping, the panels and battery bank need to get you through seven days with 20% or more in reserve. Any less and you're going to need a generator as a back up.
If you ask us, the safest way to spend your money is to invest in a good quality solar setup, and have a small generator ready as back up should you have a period of cloudy/rainy weather. It really is a "best of both worlds" situation – a 2KVa generator will set you back about $1200-$2000, but should last forever, and only weigh around 30kg. If you invest another $1500 into your solar – that's easily a week or more you can go without needing power.
FINAL WORDS
With the worst possible consequence of dodgy DIY work or gear being fire and potential injury, it pays to take your time, and invest in quality gear. That $100 or so it costs for an auto electrician to look over your work is more than worth it. What you get from your investment is the ability to hit the open road, camp where you want, and know you don't have to worry, let alone move the van, for days on end. The right power system is everything when living on the road – here's to you having the very best your money can buy!