THE TRAVELLING TRADIE
Find out how this carpenter finds work as he travels around Australia
WORDS AND PHOTOGRAPHY BY MARG MCALISTER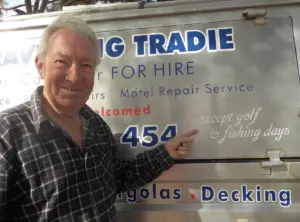 Warren, aka 'The Travelling Tradie', has been on the road full time for thirteen years – but he'd been touring Australia for five years before it occurred to him that he could earn an income from his trade.
"When my wife died fifteen years ago," he says, "I thought: well, what am I going to do – sit at home and watch the grass grow? So after a couple of years I sold up, hitched up the van and set off." He did keep some of his tools, though – a builder by trade, he couldn't bring himself to part with those!
One day, after finding out about his background, someone asked him to do a small job for them. That was when Warren realised that he could make money while travelling, and started taking on other jobs. His tools began to accumulate to the extent that Warren describes ruefully as 'chaos'! Then, while visiting his daughter in Adelaide seven years ago, he saw the perfect tradie's truck for sale at a caravan dealership.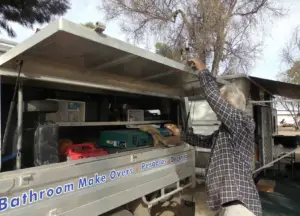 Warren smiles as he remembers that day. "I said to my daughter: 'I'd better get out of here or I'll end up buying that truck!" Then he thought about it some more… and decided that he had to have it. "The more fields you get into as you travel around doing jobs, the more specialized tools you buy," he explains. "For example, for bathrooms you need angle grinders and tile cutters… it all has to go somewhere. So I bought the truck, and now I've got organised chaos!"
FINDING WORK
How does a good tradie go about finding work? Warren says he doesn't worry about looking on job sites or applying for work. He enjoys the freedom of travelling wherever and whenever he wants, seeing the sights as he goes, and has now been around Australia four times.
When I caught up with him in Port Broughton, SA, he told me: "I was in the Flinders Ranges yesterday, I'm here today, and I'll be somewhere else tomorrow." When work is offered, he'll stay for as long as it takes.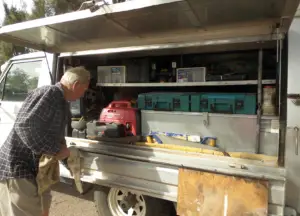 When Warren first started seeking work, he had business cards and flyers printed. Now, he doesn't bother: his truck does the talking. "That truck is my best advertisement," he says, waving at the signs on the sides and back, "and my best friend!"
He tells me of a typical scenario. "I was in a parking lot in the Northern Territory," he says, "and I got hailed by someone, who asked if I'd mind following him 90km down the road, because there was a lady there who had been looking for someone to do a job. When I got there I found that she wanted an industrial kitchen built below the verandah of her house, because she had a small business going making pickles, preserves and such for the markets. She offered me a nice amount of money per week for four weeks to build it. As it was, it took only three weeks – but I was able to park on the property with water and power, and she gave me meals as well while I completed the job."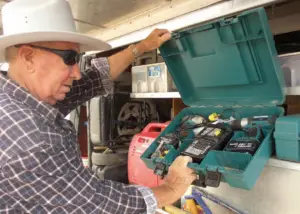 This, says Warren, is what people do in the outback. They ask around, find someone who can do the job, and a deal is struck. "Sometimes," he says, "they'll have materials there, but usually I'll make out a list. The lady who wanted the kitchen wanted me to go with her to buy what I needed, so we hitched up the tandem trailer and off we went. Usually it's beneficial for me to go with them to the local hardware shop, so I can make sure I'm getting the right supplies."
Another time a man stopped him as he was going out of a rest stop at Burra, in SA, to ask if Warren would go with him to look at a job that needed doing on his cottage, just out of town. "I completed the basic maintenance that he wanted," remembers Warren, "and then I painted the fascia and gutters for him. And you know, that one job led to a lifelong friendship between us. He has an interest in racehorses, and took me along with him to watch his horses race. He's such a beautiful man."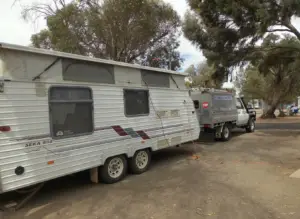 WARREN'S TOP TIP
"When out in the country, I have followed the camp draft circuit – which is similar, in some ways, to a rodeo. Normally there is free camping available for these. If I'm lucky – and 80% of the time I am – somebody will see the signage on the car and come up to ask if I can go and do a job for them. Country people think nothing of distances, so around that camp draft town, there might be a radius of 400km with a circle of little stations. They all talk to each other, and that can turn into a lot of little jobs for me. I've found that to be one of the best ways of getting a job."
THE TRAVELLING TRADIE'S TOOLS
Here's just some of the equipment Warren travels with for the work he does:
• Generator
• Good quality drill and attachments
• Hand saws
• Circular saw
• Angle grinder
• Tile cutter
• Drop saw
• Nail guns
• Basics: socket set, spanners, screwdrivers
• Pipe cutters
• Scaffolding-type ladder And here are some of his "Essential Leisure Tools"!
• Golf clubs
• Fishing rod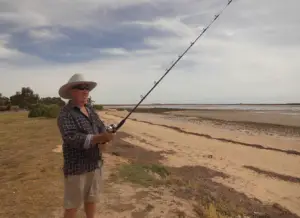 SIGNAGE TIPS FOR YOUR VEHICLE AND VAN
• Have your signage done by a professional. Hand-painted lettering on vehicles can affect people's perception of your business' general professionalism.
• Make sure the signage can be easily read from a distance, with your phone number in a prominent position. Your main message should be clear – for example, 'The Travelling Tradie' sums it up nicely! Other information can be added in smaller letters.
• Use colours that stand out against the colour of your vehicle.
• If you want the option of going incognito now and again without anyone asking you to do a job, magnetic signs might be a good option.
Station owners are usually happy to find a tradie that will come to do a job without a callout fee. When properties can be a long way from town, it gets expensive to have someone come out and take a look, then quote for a job. Warren has always found station owners and managers to be very friendly and good to work with. "I put people into three categories," he says. "First, station owners: they're lovely people. The second category is country people, who are usually very nice. The third category is city people. They're the hardest to get to know."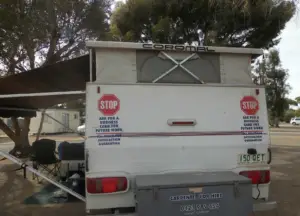 Warren emphasizes that one thing he doesn't set out to do is take work away from the locals. "There are often very good tradesmen in the country towns," he points out, "but sometimes they have jobs lined up and it'll take them a while to get to someone. Or there might not be someone with the right set of skills in an isolated town. That's when they're happy to see me drive in."
Warren's motto to live by is a good one: "Keep the hands busy and the mind will look after itself."