THE GREAT GREY WATER DEBATE
We take a look at current self-containment regulations and what they mean to you
WORDS BY TIM FERRIER PHOTOGRAPHY BY CARAVAN AND MOTORHOME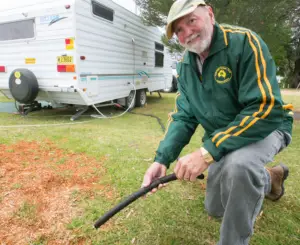 Self containment is a term relatively new to the travelling world. So new, in fact, many of you will be scratching your head trying to figure out exactly what it means, who introduced the term, and how it affects you and your style of travel. The truth of the matter is, this is the biggest regulation to hit free campers in the past decade –not having a self-contained setup could cost you money and time in some of Australia's best freedom camps. Let's take a look at self-containment, and what you need to do to your setup to avoid fines.
DEFINING SELF-CONTAINMENT
Having a fully self-contained RV essentially means you are able to leave the campsite exactly how you found it. This means you need to be able to store and carry rubbish, grey water, black water, and also have the minimum requirement of drinking water on board. In simpler terms, a self-contained vehicle will be able to retain ALL waste for the duration of your stay. The amount of storage can vary slightly, and it's important to know the requirements for the campsites you will be visiting. But first, let's take a look at where the self-containment idea came from, and why it can be beneficial for the longevity of free and freedom camping.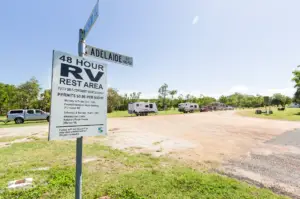 WHERE IT'S COME FROM
In countries with a large number of tourists looking to have a driving holiday, like parts of Europe and New Zealand, it became apparent that without regulation, campsites would slowly be ruined or shut down because of those leaving waste of all kinds. In order to keep camps and rest areas open, it was decided the best way forward was to bring in self-containment regulations, and fine those that are doing the wrong thing.
The regulation has been incredibly successful, especially in New Zealand. It has drastically reduced the impact RVers have on campsites and rest areas, and has brought the 10% of those doing the wrong thing into line with the majority of RVers that care for the environment.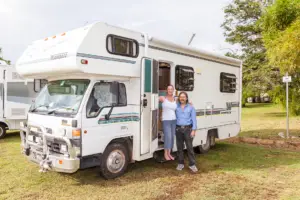 CMCA 'LEAVE NO TRACE' SCHEME
After seeing the success in other countries, the CMCA brought the self-containment scheme to Australia in the form of the 'Leave No Trace' Scheme. Much like the NZMCA self-containment regulations, the CMCA encourages caravanners to 'leave nothing but your wheel marks' at designated campsites and rest areas. In return for RVers' cooperation with the regulations, they are allowed to camp in designated self-contained campgrounds across the country – the numbers for which are exponentially growing.
STORING GREY WATER
The biggest hurdle you face when getting your van up to self-containment standards is the storage of grey water. The majority of vans nowadays have big water tanks, and cassettes for the toilet system, but grey water storage is still a relatively new addition in new vans. Fortunately retro-fitting one is quite a simple DIY. Let's take a look at a few options – you'd be surprised how easy and cheap they can be!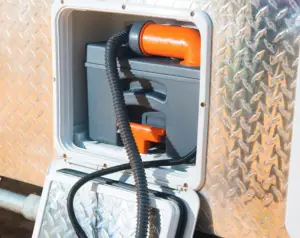 PVC PIPE TANK
We've seen a couple of cracking PVC pipe grey storage systems on vans. The materials are cheap and easy to install underneath your van –three, 1m lengths of 90mm PVC connected is enough for two people even with showers.
ALLAN'S SIMPLE BUCKET SYSTEM
"Our caravan does not have a grey water waste collection, so when we go into national parks we use our 25L bucket. We carry 2 x 25L buckets for this purpose. It's very effective, and also keeps our water consumption to a minimum." – Allan McGrath
MARG'S PORTABLE GREY WATER TANK
Our current van doesn't have a fitted grey water tank, and quite frankly, we don't want one – because we don't want to have to take the whole van to the dump point! Our wheeled 40-litre grey water tank slides neatly under the van, and cost only $79 plus freight from eBay.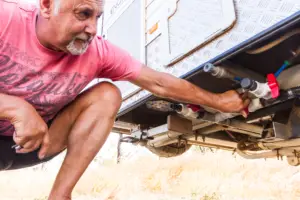 THE REGULATED REGIONS
There are self-containment regulated campsites across the country, but below are a number of regions that are either backing the CMCA's LNT Scheme, or have their own self-containment regulations. If you're travelling to these areas, it's advisable that you are compliant.
• Tumby Bay, SA
• Clarence Valley, NSW
• Tasmania (Devonport and Latrobe
Council regions)
• Port Lincoln, SA
• Merimbula, NSW
• Julia Creek, QLD
THE GREAT GREY WATER DUMP DEBATE
We hear two very different sides to the debate on dumping your grey water on the ground. Many RVers, especially those that have travelled to the outback where water is scarce, believe dumping grey water is acceptable – locals have even thanked them for giving the trees a drink!
That said, there's no doubting the chemicals we allow to drain from our sinks can negatively impact the environment. This would escalate if everyone at a popular free camp like Bretti Camping Reserve dumped their grey water. It has the potential to pollute a whole campsite, and also run into one of the more pristine stretches of river in NSW.
At the end of the day if you're staying at a campsite that prohibits dumping grey water, you need to stick to this rule.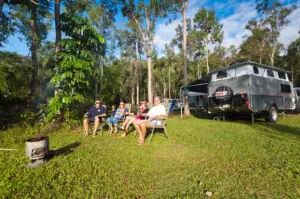 IS SELF-CONTAINMENT THE WAY FORWARD?
While self-containment is a contentious issue, there's no doubting it's gaining momentum, and more and more regions are taking on the CMCA LNT Scheme, or creating their own regulations. While this means we might have to tweak our setups, it's a small price to pay to ensure our free and freedom camps remain open for years and years to come.