THE BEST WATER-FRONT FREE-CAMPS IN OZ
Our pick of the best 15 free riverside campsites in the country
WORDS BY STEVE COLLINS, PHOTOGRAPHY BY CARAVAN & MOTORHOME ON TOUR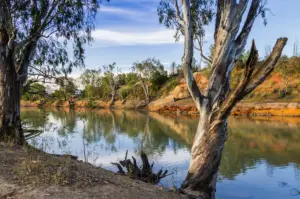 Whether you're a keen fisherman, history buff, full-time free camper, or simply looking to break up a long drive – nothing beats pulling up alongside a tranquil waterway for a peaceful night's rest. But with so many places being locked up or slapped with hefty tariff these days, finding a serene spot of your own is harder than ever before.
Which is why this issue we've put together our pick of the 15 best riverside free-camps Australia-wide. And look, we use that term liberally. We're also counting creeks, lakes and lagoons that are offshoots of a bigger river system. So no matter what you drive, where you like to travel or what you're interested in, chances are one of these 15 cracking waterfront free-camps will have your name written all over it.
QUEENSLAND
1 THE STUNNING JARDINE RIVER
MUTEE HEAD CAMPING AREA
Tell you what; it doesn't get much better than the iconic Cape York. Nestled away on the west coast of the historic peninsula, Mutee Head offers your own grassy site right on the water's edge where the Jardine meets the Torres Strait.
This geographically strategic region was used heavily during World War II, evident by the countless relics still scattered across the landscape today. Worth checking out during your stay here is the old radar tower up on the hill behind the beach or the downed DC3 by Bamaga airstrip.
The 162km long Jardine is the largest river system on the Cape York Peninsula, flows continuously throughout the year and is home to 46 species of fish including barramundi, grunter, giant bream and rainbow fish.
The track to Mutee Head leaves the Development Rd four kilometres north of the ferry. Five kilometres down, the unnamed track forks – with your first camping option to your right and Mutee Head down to your left. If you're not in a 4WD vehicle, pull into the camping area on your right. The left track down to Mutee Head becomes soft and sandy making it suitable for 4WD vehicles only. But trust us, it's worth the trip down if you're able.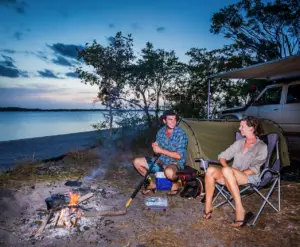 2 THE PEACEFUL MITCHELL RIVER
KOOLATAH CROSSING 
The Koolatah Crossing on the Mitchell River is one of the most peaceful spots you'll ever roll out your awning at. Just picture it – you, a glass of wine, a few nibbles, your feet up, cockatoos flying overhead as you watch the sun set over the glassy water.
Located just off the main road as it passes through a local cattle station, this quiet spot 270km north of Karumba has space for 10 or more RVs and makes for an ideal overnighter on your way between Karumba and the Musgrave Roadhouse.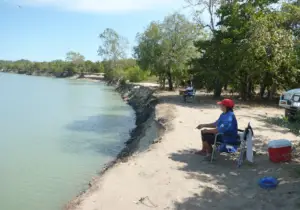 3 BEAUTIFUL BOYNE RIVER
BENARABY FREE CAMP
Disappointed by the lack of free camps up the QLD coast? Well you'll absolutely love the Boyne River at Benaraby (160km north-west of Bundaberg). Located at the end of Marrawing Rd off the Bruce Hwy, this free camp gives you two accommodation options. Up high there's a grassy clearing for non-4WD vehicles. If you've got a 4WD you can take the dirt road down (the left track) into the stony camping area below where there is nearly a kilometre of camping available.
You can even catch barramundi and mangrove jack in this river (at the right time of year) if you jump in your kayak and paddle a little further downstream. Not bad considering you're only a day's drive from Brisbane.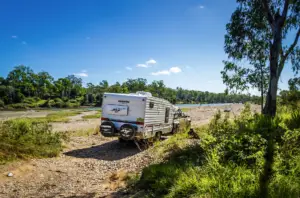 TASMANIA
4 THE BRILLIANT BRADY'S LAKE
BRADY'S LAKE CAMPING AREA
Into your trout fishing? If so, you'll love Bradys Lake. This manmade lake system is an offshoot of the Nive river system and is predominantly populated by naturally spawned brown and rainbow trout that grow to 1.5kg. On top of that, 5kg Atlantic salmon and 3kg redfin perch have been stocked into these water ways.
Bradys Lake was constructed in the 50s to act as storage for the nearby Tungatinah hydropower plant. Since then it has been kept well stocked with several species of fish to entice the constant flow of tourist.
There is plenty of room for rigs of all sizes at this flourishing grassy spot, just take the right hand turn as you come off the Bradys Lake Rd from the Lyell Hwy.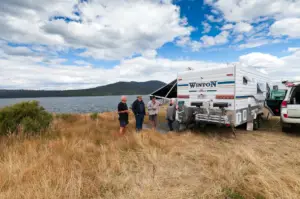 VICTORIA
5 THE MAGNIFICENT MURRAY RIVER
CHRISTIE'S BEACH 
From the man-made lakes at Albury and Yarrawonga to the wine-growing districts of Rutherglen and Mildura and the sandy beaches at Tocumwal, Australia's longest river, the Murray, offers a lot to us RVers.
One of our favourites is a little camp called Christie's Beach eight kilometres outside of Echuca. Head in from Bangerang Rd, set up, then make the trip back into town to see the sights. With plenty of flat shaded campsites, Christie's Beach is perfect for larger groups looking for a free camp with facilities (they're tucked up one end and are easy to miss).
A highlight of the Murray River at Echuca is boarding one of the historic paddle steamers for a lunch, dinner or day cruise from the river port recreation in town. The original red gum wharf constructed in the late 1800s was nearly 1.2km long in its heyday. Today there's a museum, historic buildings, equipment displays and demonstrations – all of them a must see.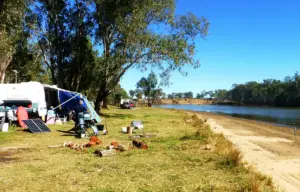 6 SENSATIONAL SNOWY RIVER
WOODS POINT
Located 25km north of Orbost in Victoria, the pristine white sandy beach and fresh river water at Woods Point are ideal for a leisurely frolic. The campsites are blanketed with a lush green grass each accompanied by a fire pit and basic amenities.
Here's our tip, once you come down the hill into the camping area turn hard right and grab the very end site near the tree line. It's big enough for 2-3 RVs, its flat and far enough away from everyone else that even if you do have company, you won't even know they're there.
The access track is fine for 2WD vehicles in dry weather. Take the Garnets Rd out of Orbost and follow it up past the cow paddocks.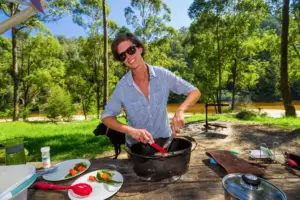 7 THE ABUNDANT AVON RIVER
FISHERS RIVERSIDE CAMP
You'd think that a waterfront free-camp right on the busy Princes Hwy would be packed out all year round, right? Not so. At least not here at the Fishers Riverside camp east of Stratford, VIC.
Fair enough it doesn't have power or much shade, but that's made up by the fact it's so quiet, peaceful and chockers full of bird life. It also means the flat well kept grassy sites are perfect for larger RVs.
There are a handful of quaint little jetties dotted along the water's edge which make the perfect place to have happy hour, throw in a line and watch the sun set over the water.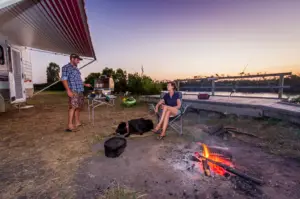 NORTHERN TERRITORY
8 ROPER RIVER
ST VIDGEON RUINS, LOMAREIUM LAGOON  
The St Vidgeon Homestead Ruins on the Savannah Way 65km south-east of Roper Bar represents a story of hardship in the outback. The homestead has been rebuilt twice since it was first destroyed by floods. It's also been levelled by a plague of white ants and most recently by a cyclone.
There are two entrances to the serene Lomareium Lagoon camp. Take the eastern entrance, head right into the lagoon then follow it west for a few hundred meters where you will be guaranteed a quiet, shady spot on your own. Oh, and if you're looking to hook at barra on your trip up north, head on over to the Roper River.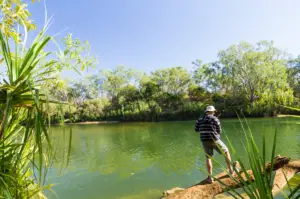 WESTERN AUSTRALIA
9 SETTLE ON THE AVON RIVER
AVON PIONEER PARK 
There must be something in the water because WA's fertile Avon River is a cracker for free campers, too. Here you can hook into free 240V power (there are four points), top up your drink bottles, cook on gas BBQs and use the dump point for princely sum of $0!
Located 130km east of Perth, is the small picturesque town of York, colonised in 1831. It was the first inland European settlement in WA and is now listed as one of the best preserved and restored 19th-century towns in Australia.
In town you can enjoy a cup of tea or a glass of wine, try skydiving (for the young at heart), browse the Jah Roc Mill Gallery and wander the York motor Museum. When it's time to park up for the night, pull into the car park in Lowe Street.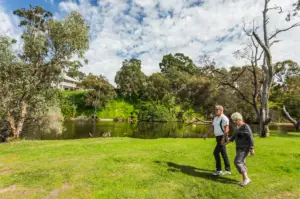 10 THE GORGEOUS GIBB RIVER
GIBB RIVER CROSSING CAMPING AREA
Absolutely stunning, that's how you'd describe this spot. This very iconic part of the Kimberley is abundant with cockatoos, boab trees and aboriginal rock art, plus it's got a beautiful swimming hole above the crossing.
The southern side of the river is usually more crowded so it's worth getting into camp early to nab one of the quieter spots under the shade of the trees on the northern side. Be careful navigating your way around the campsite on the south side if you do check it out, too, as the sand can be quite boggy in parts.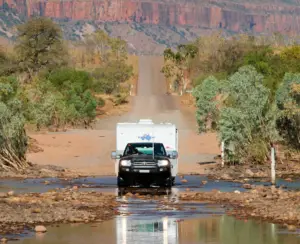 11 THE PILBARA'S DE GREY RIVER
DE GREY RIVER REST AREA
The De Grey River rest area located halfway between Port Hedland and Pardoo on the Great Northern Hwy is one of most popular free camps in the Pilbara. With enough spots for over 100 RVs, a friendly herd of cows that'll come and share breakfast with you, basic amenities, plenty of shade, dump points and even free WI-FI near the picnic tables. This is one you won't want to miss. Our tip is to either go down under the bridge and follow the track away from the road or look for a spot on the opposite side of the river (though, this side has no amenities).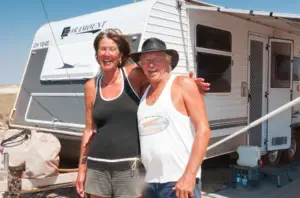 NEW SOUTH WALES
12 DARLING RIVER DREAMING
TILPA WEIR
Ah, the good old Tilpa weir on the Darling – what a classic spot. The Tilpa Hotel (130km north of Wilcannia) offers the best steak sandwiches around, it's perched high up on the banks of the Darling and hosts the hall of fame for the biggest Murray Cod caught in local waters. If you wish, you can make a donation and you can add to the stories of travellers scribed on the walls.
Catching yabbies with meat and string is a time-honoured Darling River tradition and is as simple as tying a bit of meat to a few metres of string and throwing it in. The trick is to use white cooking twine as your string and lean meat because they both sink, and to have a net handy to scoop the yabbies up once retrieved.
Nearby Louth is also worth a stop. Its home to a pub (with a small caravan park), general store and fuel stop, as well a seven-metre Celtic cross that was erected by Thomas Matthews as a monument to his wife who passed in the late 1800s.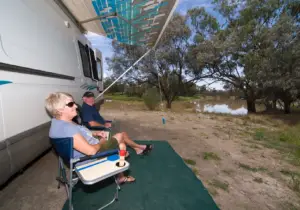 13 THE MAGICAL MURRUMBIDGEE RIVER
DARLINGTON RIVER
With places like Gundagai's Mt Parnassus Lookout, Wagga Wagga's 30km Wiradjuri Walking track and Hay's delightful Nature Walk all scattered along the might Murrumbidgee River, there is a lot to see and do.
The quaint RV-friendly town of Darlington Point is home to the Altina Wildlife Park, boutique coffee shop, post office, general store, a pub, free drinking water and a dump point – you'll have everything you need.
The best campsites nearby are off Darlington Point-Whitton Rd about 300m south of the Kidman Way intersection. Head in past the farmer's sheep yards and down to the second spot on the river. It's roomy enough for one or two vans yet far enough away from the rest that you will feel like you've got the place to yourself.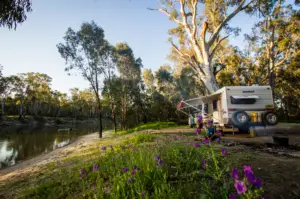 SOUTH AUSTRALIA
14 BEAUTIFUL LAKE BONNEY
BARMERA
A popular RV destination, Lake Bonney at Barmera is a freshwater lake fed by the Murray River west of Berri in South Australia. Wine tasting, museum tours, bike riding, bird watching, fishing, swimming – you name it, this place has got it.
The area for free-campers stretches for a few kilometres so you can be assured a spot any time of year. If the south end near town is busy, head up to the north-eastern end of the lake near the weir. It's quieter and has a few more trees for shade.
The sites on the southern end of the lake are within walking distance of the main strip which means you've got access to the town's amenities, drinking water, supplies and a dump point. This one's big enough for 5th large RVs, too – just avoid the softer sandy patches.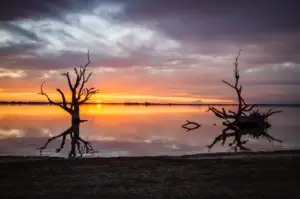 15 STRZELECKI CREEK – THE OASIS IN THE DESERT
MONTECOLLINA BORE CAMP AREA
If one thing's scarce in the outback, it's water. Which means any free-camps by a river or creek become a mecca for wildlife such as cockatoos, finches, wedge tail eagles and dingos. And that's exactly what you'll find at the Montecollina Bore camping area (and yes, you can swim here) 222km north east of Lyndhurst on the Strzelecki track.
You'll see the dirt track to the campsite dart off west up over a small rise. Follow that for about 400m through the long grassy fields until you come to the water's edge. There's plenty of room for 3-4 vans off this loop track that is accessible to 2WD vehicles.