PULLING YOUR WEIGHT
Advances in technology have made towing safer and easier for RVers
WORDS AND PHOTOGRAPHY BY GRANT HANAN ADDITIONAL PHOTOGRAPHY BY CARAVAN AND MOTORHOME
MANUFACTURER CHALLENGES
Original Equipment Manufacturers (OEM as they're known in the industry), design, engineer and manufacture a range of vehicles that are increasingly more competitive in the marketplace. They cover a wider range of applications, they're becoming more affordable to manufacture, and they still meet the regulatory rules of the country into which they're selling.
WHAT'S AVAILABLE
In the past, many of us have looked at buying big 4WD units for towing. The rule of thumb tended to be "buy a big mass to tow a big mass", but today there is a wider range on offer. A 4WD gives travellers the option of off-road exploration, something that can be a bit dicey in a 2WD vehicle.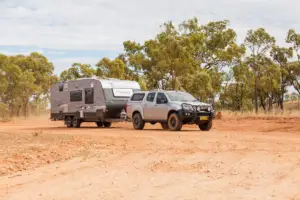 A short stroll around a caravan park will reveal the variety of styles and types of vehicles towing the humble RV. They range from the Australian family sedans to the big imported American pickups, but by and large, most tugs are 4WD wagons, with an increasing trend in utility cab chassis types.
CHASSIS FIRST
Manufacturing processes vary and are forever changing. Whilst there are many variants, a chassis can be loosely classified as one of two types. There is the traditional ladder frame chassis and the more modern manufacturing technique known as monocoque style.
Of late, the trend to blend the two using a process known as "tailor welded blanks" brings together the strength of a ladder frame while assembly is carried out using a monocoque technique. Let's take a quick look at these types.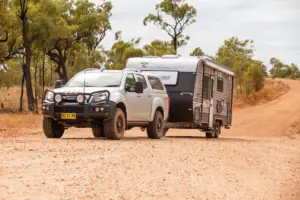 WHAT DRIVES THE MARKET
Normally, purchasers look for a combination package that meets their requirements. RVs are definitely getting heavier! With a towing vehicle, we generally look for comfort, safety, reliability, fuel efficiency, affordability and towing capability. We may also want this vehicle for everyday use. This means selection criteria can be broad, and finding a perfect fit is all about compromise.
LADDER FRAME
This design resembles a ladder and is the simplest and oldest of all designs. It uses side rails/beams that are connected with cross-members, with the strength in this design coming from the technique used in joining these side rails. Tubes and angle-formed sections of steel are shaped in such a way that when joined to the side rails, they form a crossmember. This design provides a greater load-carrying capacity and distributes the load more evenly over the vehicle at a lower centre of gravity. The cab/body is then attached to the frame. Trucks and buses are still made this way, as are some vehicles.
MONOCOQUE CHASSIS
Think of large pieces of flat thin steel that are pressed into shapes. These shapes are then joined using spot welders. Once joined, they take the shape of a vehicle body. This style is not as strong as a ladder chassis as the strength relies in the assembly and welding of the body. In addition, loads are not transferred through the whole of the vehicle, unlike the ladder style.
TAILOR WELDED BLANKS
This manufacturing process uses both design processes described above, but in a different way. Large pieces of shaped flat steel are strategically positioned and welded together. These are then pressed in huge tonnage presses to form panels that have box sections shaped by the presses. These box sections are extremely strong as they have been welded and shaped as one panel.
The panels can be a complete onepiece structure such as a full body side and complete floor pan. They are super strong, and can carry and transfer loads throughout the body structure, whilst being lighter than the traditional ladder design because strength is added only where needed.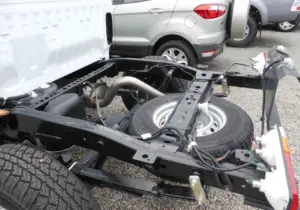 VEHICLE ENGINES
An appropriately powered towing vehicle is one of the first steps to matching a tow vehicle to the RV. Both petrol and diesel models can do the job, but diesel is leading in many model variants when it comes to torque, and thus diesel vehicles are a more popular offering by OEMs.
Technological improvements in engine design such as common rail fuel systems deliver low down torque. The power produced at the low end of the RPM scale comes from high levels of torque, thus allowing the drive train to move huge loads without much effort. Diesel engines can produce twice as much torque as they do horsepower at low idle levels, thus allowing them to pull a fully laden RV with ease.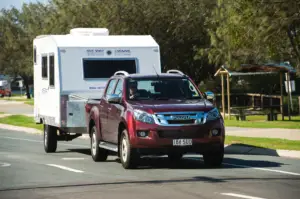 Innovative designs in turbo technology, intercoolers, and exhaust gas displacement all contribute to improvements in power and torque. OEMs set these fuel systems to provide optimum performance and fuel economy for the middle ground, not necessarily for towing.
TRANSMISSONS AND GEARBOXES
In recent years, the design and capability of automatic transmissions has advanced rapidly in all areas. In particular, the use of onboard diagnostics and computers has now removed driver error in gear selection. Consumer demand for ease of set up and a stress-free towing experience is seeing automatic transmissions as the preferred choice.
Transmissions are being set for optimum fuel economy in the same way as engine power. Computers and electronic sensors also allow the designers to keep the vehicle operating within a safe operating band to ensure reliability and to protect their warranty. We are seeing a wider range of gear selection in new models. Some OEMs are now fitting 6 speed options, allowing for a smoother ride and, through the use of appropriate gearing, removing a lot of the strain on the engine.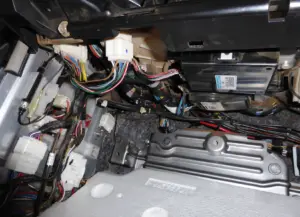 BRAKES
Electronic systems these days offer increased braking control, with systems such as ABS, Traction Control, Electronic Stability Control and engine braking systems being available. In some cases, trailer sway control has also been added.
Larger disc brakes using slotted and vented rotors are now being used, offering an increased surface area allowing for larger calipers that use multiple pistons. Brake drums are also increasing in size and surface area.
SUSPENSIONS
Any vehicle being promoted as suitable for towing has to come with substantial increases in payload carrying capacity. This is one area where OEMs must make compromises in their offering. The range these vehicles can carry as payload, particularly the utility type vehicles, can be as much as 1,000kg plus. This makes setting the optimum suspension ride difficult. Some OEMs offer two types of suspension setups – one set as a standard and the other as heavy-duty. Since RVers have differing requirements, they may not always be carrying heavy loads. Nobody wants a suspension system with so hard a ride that it's uncomfortable. On the other hand, if it's too soft, it can become a stressful towing experience.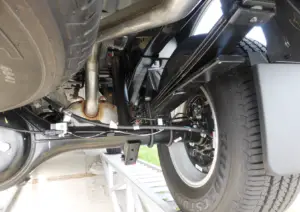 TOW BAR PACKAGES
Many of the OEMs offer towing packages as OE-compliant. This means the OEM has designed and developed the vehicle intending that it will be used for towing. By designing the tow package this way, extra strength and attachment points are built into the chassis rails so that loads are more evenly distributed when using the OEM's tow bar configuration. (Note: many of the OEMs will only stipulate the towing capacity upon installing the recommended approved OEM tow package.)
SUMMING UP
We are fortunate that technology is continually advancing to improve capability and performance in tow vehicles. Thanks to a range of new manufacturing processes being adopted by vehicle manufacturers, we are seeing an ever-increasing range of model variants that are capable of towing our RV and worthy of adding to our shopping list. Safe and happy towing!