GET PLANNING
The 24 free and low-cost camps every RVer should experience this coming year
COMPILED BY CARAVAN AND MOTORHOME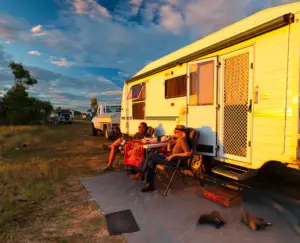 With every new year comes a new set of challenges and goals we give ourselves. In the RV world, these challenges often come in the form of exploring new ground in the never-ending search for that perfect little campsite that suits your style of touring down to the ground. To aid you in your search for new locations to see and explore in 2015, we've put together a full calendar of 24 memorable free and low-cost campsites: what we believe will be this year's best! We've chosen these gems from thousands on offer, and think you'll absolutely love them, especially if you go at the right time of year! So sit back, enjoy and start planning your next low-cost RV adventure.
JANUARY
BAY OF FIRES, TAS
<<<TOILETS, CAMPFIRES, PETS, SWIMMING, FISHING, WALKS>>>
It's almost a good thing that you're only allowed to stay at this campsite for a maximum of four weeks. With sensational ocean views and one of the whitest beaches on earth, it'd be impossible to stop people from moving in permanently! There are seven campsites within Bay of Fires Conservation Area and all of them free, but our picks are Swimcart Beach for the fishing or Cosy Corner North for a lagoon that's ideal for kayaking and snorkelling.
Closest town: St Helens
BENDEELA, NSW
<<<TOILETS, WATER, BOAT LAMP, FISHING, SWIMMING, WALKS>>>
This lush, green campground is perfect for big group getaways, as it has over 1000 individual campsites. It's located 7km west of Kangaroo Valley and is situated by the Kangaroo River. The massive size of the campground means it's never full, and even at peak times you can still have plenty of space to yourself.
Closest town: Kangaroo Valley
FEBRUARY
POLICE BEND, MURRAY RIVER VIC
<<<NO TOILETS, NO WATER, CAMPFIRES, PETS, SWIMMING, FISHING>>>
On the banks of Australia's most iconic river is one of its best kept secrets! Police Bend, on the Murray River is home to 12 campsites all within a 4km stretch of water. Located just 10km south of Mildura, Police Bend is extremely accessible, but just hidden enough to keep it peaceful in the quiet seasons. Launch a tinny from the banks, or just kick back in any of the shaded campsites on the river.
Closest town: Mildura
BLOWERING DAM, NSW
<<<TOILETS, CAMPFIRES, MOBILE SERVICE, PETS, PICNIC TABLES, SWIMMING, BOAT RAMPS, WALKS>>>
This massive dam is almost tailor-made for boating and is regularly restocked with fish, so even a novice is bound to catch something.
Closest town: Batlow
MARCH
CORELLA DAM, QLD
<<<MOBILE SERVICE, SHADE, CAMPFIRES, BIG RIGS, PETS, FISHING, SWIMMING>>>
Corella Dam was originally built to provide water for the uranium township of Mary Kathleen, which is now part of the greater region of Cloncurry. This spacious campground is perfect for those that love boating, canoeing or catching some tasty red claws in the dam.
Closest town: Mount Isa
BRETTI CAMPING RESERVE, NSW
<<<TOILETS, FISHING, CAMPFIRES, PETS>>>
Around 30 minutes north of Gloucester, on Thunderbolts Way, you'll come across a picturesque riverside campground that is the perfect free campsite. This pet-friendly campground is set on a huge grassy paddock, and is perfect for the pup to run about on.
Closest town: Gloucester
APRIL
CAMOOWEAL BILLABONG, QLD
<<<TOILETS, PETS, SHADE, FISHING, KAYAKING>>>
Camooweal is seemingly in the middle of nowhere, yet campers from all across Australia pull in here for a night, a week or a month as they tackle their big lap. It's positioned right on the edge of a billabong just outside of town, so it's not only popular with campers, but also thousands of native birds.
Closest town: Camooweal
MAYS BEND, DARLING RIVER NSW
<<<NO TOILETS, NO SHOWERS, NO WATER, SWIMMING, FISHING, WALKS>>>
Mays Bend is an unofficial campground on the banks of the Darling River just outside of Bourke. The kayak and fishing rod is all you will need once you have set up the camp in this cracking spot. With red dirt underfoot and a river full of life, there's not much to worry about in this ideal outback bush camp.
Closest town: Bourke
MAY
WARROORA STATION, NINGALOO REEF WA
<<<CAMPFIRES, FISHING, SWIMMING, WALKS, PETS, KAYAKING>>>
You've got to love a farm stay that lets you take your caravan right down to the beach and set up with an unforgettable view of the ocean. With the beautiful Ningaloo Reef as your backdrop, this is the perfect remote stay for those wanting to truly escape from it all.
Closest town: Exmouth
POINT DRUMMOND, MOUNT HOPE SA
<<<NO TOILETS, NO WATER, FISHING, WALKS>>>
Many think this is only a lookout, but if you keep driving for a kilometre or so you'll discover one of the more pristine winter camps in South Australia. It offers a lot for fishermen and lovers of our beautiful coastline.
Closest town: Cummins
JUNE
QUONDONG POINT, WA
<<<PETS, 4WD ONLY, FISHING, NO TOILETS>>>
The entire Dampier Peninsula is spectacular and the stunning free sites at Quondong Point are no exception. You'll have to sacrifice facilities to experience pure oceanfront camping on one of the most magical stretches of coast in the country.
Closest town: Broome
CAVE CREEK CATTLE STATION, MATARANKA NT
<<<NO TOILETS, POWER, WATER, CAMPFIRES, SWIMMING, FISHING>>>
This working cattle property provides spacious camping, power, drinking water and allows fires. Best of all it's just down the road from some of Australia's best swimming holes, including the wonderful Mataranka Springs
Closest town: Katherine
JULY
BIRTHDAY WATERHOLE, NT
<<<NO TOILETS, NO WATER, CAMPFIRES, WALKS>>>
Birthday Waterhole is located around 60km west of Alice Springs in the West MacDonnell Ranges and is one of the top free campsites around. Head out to Birthday Waterhole and get a taste of pure bush camping while you feel the heartbeat of this magnificent region beneath your feet.
Closest town : Alice Springs
BALGAL BEACH, QLD
<<<TOILETS, PETS, FISHING, WATER, WALKS, 48 HOUR STAY>>>
This is one of the real hidden gems of the QLD coastline. Whether you love having a dip in the ocean, catching dinner, rainforest walks, or just lazing around a scenic camp, you'll absolutely love Balgal Beach.
Closest town: Townsville
AUGUST
SWANS CROSSING, NSW
<<<TOILETS, PETS, PICNIC TABLES, CAMPFIRES, SWIMMING, WALKS>>>
When it comes to cracking free getaways close to home, Swans Crossing is hard to beat. With sensational fishing beaches easily within reach, you'd be hard pressed to find a better RV-friendly campsite with as much to offer. From swimming to magic views, backed up by a pristine campground and impeccable facilities, Swans has the lot!
Closest town : Kew
CLEAVERVILLE BEACH, WA
<<<NO TOILETS, NO WATER, FISHING, PETS>>>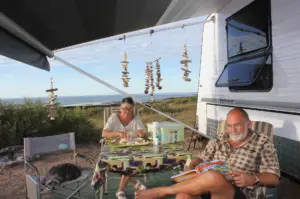 This scenic beachside campsite in the Pilbara is the ideal spot to stop on your way down the WA coastline.
Closest town: Port Hedland
SEPTEMBER
BIRDSVILLE, QLD
<<<TOILETS, SHADE, PETS, CAMPFIRES, SWIMMING>>>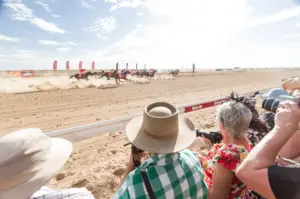 For a truly iconic outback experience, it's hard to beat the Birdsville Races. This historic horse race brings people from all over the country to this tiny town on the edge of the Simpson Desert. You can stay in town for a fee, but riverside camping is available along the banks of the Diamantina River between the town and the racecourse.
Closest town: Birdsville
BARRADALE REST AREA, WA
<<<TOILETS, SHADE, PICNIC TABLES, CAMPFIRES, BBQS, BIG RIGS, DUMP POINT, PETS>>>
On your way into the Ningaloo area, make sure you stop in at the Barradale rest area. It's a perfect spot to meet fellow RVers and get some tips on the local area. It's right near the Barradale Roadhouse, which is a nice spot for a bite to eat and a top up of fuel.
Closest town : Carnarvon
OCTOBER
YARRAWONGA PARK, QLD
<<<CAMPFIRES, BOAT RAMPS, FISHING>>>
Although QLD's popular east coast is covered in great beach camps, finding a free one is a bit more challenging. But at Yarrawonga Park Reserve south of Mackay, you can camp by the water without a cent to pay. You'll need to be self-sufficient and ready for a remote adventure. If you need to check back into civilisation, the nearby Ilbilbie Roadhouse has showers, meals, bait and ice.
Closest town: Sarina
STANLEY, TAS
<<<DUMP POINT, VIEWS, FISHING, SWIMMING, TOILETS>>>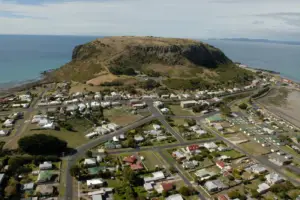 Located 127km west of Devonport, the historic CMCA RV Friendly Town of Stanley is based on the lower slopes of the great tabletopped monolith known as 'The Nut'. At just $8 per night or $40 for 7 nights, the Stanley Recreation Grounds, which is in front of Tatlows Beach, is a great value-for-money place to stay.
Closest town: Stanley
NOVEMBER
NINDIGULLY PUB, QLD
<<<TOILETS, SHOWERS, SHADE, CAMPFIRES, WATER, PETS, FISHING, SWIMMING>>>
If you're heading on a trip to the QLD outback, you have to check out this iconic pub. The area is also known for the free camping alongside the Moonie River, where visitors can swim, fish, and catch yabbies. With excellent facilities including hot showers and a great atmosphere, it'll be a must-stop on every trip west.
Closest town: St George
KOHLHAGENS BEACH, NSW
<<<TOILETS, NO WATER, PETS, CAMPFIRES, SWIMMING, FISHING, WALKS>>>
Sitting just 20km west of Wagga Wagga, this hidden free campsite offers grassy areas right on the Murrumbidgee River. You can set up here for days just fishing, swimming and enjoying the beautiful spring climate.
Closest town: Wagga Wagga
DECEMBER
WALHALLA, VIC
<<<TOILETS, PICNIC TABLES, CAMPFIRES, PETS, FISHING, SWIMMING, WALKS>>>
When the weather starts to warm up, it's the perfect time to head to the Victorian High Country. The gold mining town of Walhalla is a fantastic place to start as it features excellent free camping at North Gardens Campground. The town is filled with historic buildings, mines and an old tramway that you can cycle along.
Closest town: Walhalla
CHAFFEY DAM, NSW
<<<TOILETS, SHOWERS, WATER, CAMPFIRES, FISHING, KAYAKING>>>
The banks of Chaffey Dam are the perfect place to base yourself for a fossicking and fishing adventure. With a gold pan in hand, why not spent a few days on the banks of Swamp Creek with the hope of striking it rich? If that's not your style, throw in a line and cross your fingers for a giant yellowbelly. At only $5 a night, this is the ideal base camp for a northern NSW holiday.
Closest town: Nundle