FOSSICKER'S WAY
Follow Fred as he uncovers all the gems this country stretch has to offer!
WORDS BY FRED WRIGHT PHOTOGRAPHY BY CARAVAN AND MOTORHOME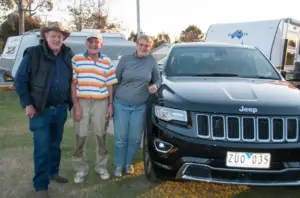 Envisage, if you will, a trip that takes you from a little-known Queensland town with an intriguing history to a place with a free camping area like no other – which, in turn, leads to a unique Celtic settlement. To make things even more interesting we'll visit a quirky plate-smashing ceremony that American Indians would be proud of, a living citrus memorial and a town said to be 'living on the edge'.
For good measure we'll drop into a cool climate winery and fossick for gold and sapphires. So let's start at Texas, QLD.
Known as the town saved by millions of rabbits and tobacco, today Texas is also a mecca for country music lovers. While the rest of Australia struggled through the depression years and the aftermath of WWII, Texas enjoyed a relatively charmed life due to revenue from rabbit sales and the growth of their tobacco industry. Baby boomers no doubt will relate to rabbit plagues of their youth when tens of millions of rabbits decimated Australia's pastures. During WWII, Texas found a ready market for frozen rabbits sent to our English allies – complete with tails attached to prove what they were!
However, the Texas story starts much earlier, when two brothers bought land there only to leave to seek their fame and fortune on the goldfields. Upon their return they discovered that their land had been taken over and embarked upon years of struggle to get it back. They saw their plight as similar to Texans fighting to break away from Mexico, later forming the US Lone Star state of Texas. Both struggles occurred at about the same point in history. Texas today is a tiny, welcoming town with several supermarkets, a post office, a butcher's shop, Bark caravan park and a beaut free camping area.
We celebrated our arrival by having the butcher cut thick Texas 'T-bone' steaks and I can vouch that they were very moreish, especially with steamed veggies and homemade mushroom sauce. Even though we had to tighten our budget for a week to come, it was worth it!
We headed the Jeep and Patriot van southwest and some 1.3km out of Texas discovered an inviting free camp. Situated beside the Dumaresq River, Les Jingles Myers bush camp features large grassed areas that can take big rigs – and plenty of them! There are no toilets or showers but a short drive or walk to Texas township will provide you with free showers and a dump point. There are rubbish bins on site, and fires are permitted. If you like, try your luck with fishing or launch your canoe for some adventures on the river.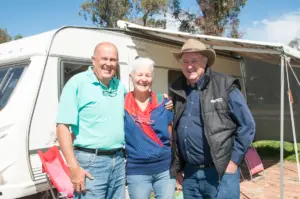 This free camp heads straight to the top ten places on my list, but Texas is no stranger to floods, so be vigilant when heavy rains arrive. A pleasant drive along the Bruxner Highway saw us drop due South at Yetman to head for Warialda, a drive of around an hour and a half from Texas. This clean, neat town has some attractive historic buildings that you might like to explore at leisure while you're in the area fossicking for gems. For this trip, we had our sights firmly set on trying something special and unusual, so we towed the Patriot into Ceramic Break Sculptures, not far south.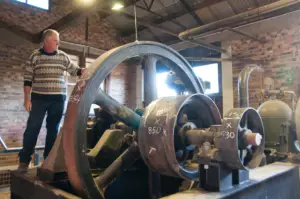 These sculptures are sure to evoke a response as well as give an insight into the creativity of the artist who created them. Kerry Cannon has exhibited bronze sculptures around the world, but the Ceramic Break is unique. You follow a marked walk through the property enjoying rural scenery and navigate your way through a forest of trees. Eventually you'll arrive at a large rock which you'll climb… and get ready to engage in the activity that gave Ceramic Break its name. You hurl down ceramic pots or plates brought along expressly for that purpose. Warning: take care to wear eye protection and be aware of flying ceramic slivers! This, we were told, is an old American Indian custom and if nothing else I feel certain it could relieve any pent up frustrations!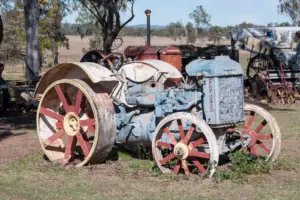 Plate-smashing over, Bingara beckoned, due south of Warialda. Bingara has been a special place for Koori people for tens of thousands of years and for free campers it's like an oasis. Locals claim Bingara has Australia's best climate with 300 days of 'just perfect weather'. The area was once referred to as the 'Big River' after the Gwydir River that flows beside the town. As fossils and seashells can testify, it was once – some 300 million years ago – under water.
You'll find Bingara on the Fossickers Way and RVers come here to search for gold, sapphires and perhaps diamonds. They all agree that the townsfolk make them welcome and love the free camp's proximity to medical facilities as well as great restaurants. Bingara is known as 'a place on the edge', in reference to the mighty fracture in the Earth's surface that extends for hundreds of kilometres.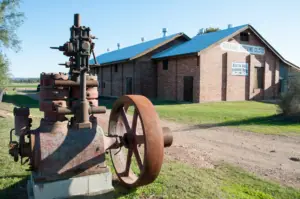 In the town, French Street is lined with a living memorial: orange trees planted in the 1950s to honour the fallen of both world wars. Out of respect, oranges are picked by school children on only one day in winter following a ceremony outside the adjacent RSL Club. Mrs Gracie Munro, founding president of the Country Women's Association, lived here. She believed that a better life for country women could be provided by women supporting each other.
While we were there, we spent some time in the Roxy Complex. Built in 1936 as the Roxy Cafe, this unique attraction was the brainchild of three Greek immigrants. Now that it is restored to its former glory you can see both films and travelling plays in the building; visit the information centre or eat at Peter's Café. Spend time here and you'll be amazed by the décor and impressed by the food.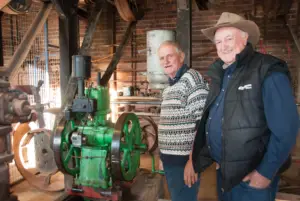 Like Texas, Bingara has an outstanding free camp. Mark this down as a confirmed stop on your travels and you won't be disappointed. However, there is a dark side to the area. Some 20km east of Bingara is a spot infamously recognised as the site of the Myall Creek Massacre. In 1838, up to 30 Indigenous Australians were murdered at this spot, resulting in the death by hanging of seven white colonists. Today, it's one of Australia's most important centres for reconciliation.
We left Bingara to head east to Inverell and our first impression was of an attractive town, displaying pride in its appearance with wide streets and historic buildings just asking to be admired. What caught our attention was a first-class National Transport Museum with a professional display of vintage vehicles in pristine condition. There's even a doll display. The volunteers are very helpful and knowledgeable and able to answer all of your questions.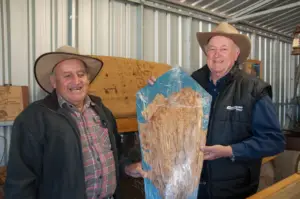 Fifty kilometres east the Jeep took us to Glenn Innes, a truly Celtic town. You don't have to be Scottish to love it. The moment we stopped, I appreciated not only beautiful churches and architecture but the welcoming ambience. The information centre is a beauty, featuring stained glass Celtic windows and an attractive display of local crafts and produce. We could not have wished for a more helpful staff to ensure that our stay was memorable. There was a passionate historian on site who was only too keen to chat and point out places of interest. It was obvious everyone in the centre loved where they lived and the welcoming attitude shown to all travellers was notable.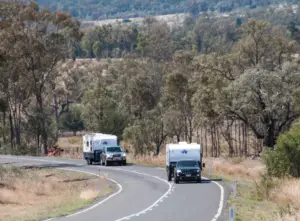 The Land of the Beardies History House Museum takes you into another world of the past with volunteer staff eager to fill in details. What fascinated me was the painstaking way that war records of all who have lived here have been collated and recorded; this must have taken endless hours of work. Here are qualities I love to find: dedication, civic pride and selflessness. I felt that this museum gave us an insight into the heart and soul of this RV friendly town.
We took the opportunity to visit the Wright Robertson cool climate winery on the road south. The appealing cellar door, with wine tasting beside a warm fire, makes it very special. Don't miss the Super Strawberry beside the highway in town for some of the juiciest strawberries from paddock to plate – but beware: some of the chocolate ones are highly addictive.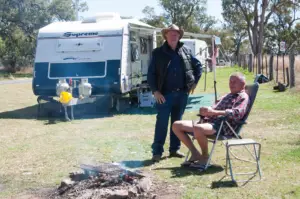 The standing stones provided an amazing opportunity to open the DVD, complete with a professional bag pipe player in full regalia and a Scottish dancer. There was even an interview with a 'Crone' dressed in period costume and an encyclopaedic knowledge about standing stones. Locals could not do enough to help and this, I hear, is their way with all travellers.
To the blood-stirring sound of the bag pipes a female dancer spontaneously broke into dance. I was encouraged to join in but one look was enough – I knew when I was beaten! I opted instead to just stand with the audience, clapping along to the music and embracing the dance.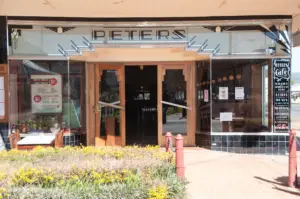 Back at our caravan park guests could appreciate not only grassy drive-through sites but a chance to pan for sapphires, an activity that so many people enjoy. I commented to John, our cameraman, that there were so many things to do and enjoy here that it was a pity we couldn't do a full documentary on it – trying to fit everything into just one segment in a 45 minute DVD could never do it justice!
CLOSING THOUGHTS
Over the period of our last two trips we've enjoyed the company of Geoff and Sharon McLean and their little dog, Cody. Their experience and support as seasoned travellers proved invaluable. It was great to relive the day's activities and discuss those forthcoming around a roaring fire and it didn't hurt one bit that they were both good cooks. We hope they can join us in the future as I certainly will miss those 5am cups of coffee and cheerful times. This latest trip has something for every RVer and reinforced that taking the road less travelled really does make all the difference.