how to pick a off road camper trailer
Picking the correct tent may not seem like a big deal, but it can make all of the difference when you are planning your next vacation. There are a few different classifications of tents and they each offer their own benefits. One type is an
off road camper trailer
. There are many things to consider when purchasing your new tent, so we've put together this post with a few tips and tricks to know before you buy!
What type of camping do you plan on doing? If you plan on camping for extended periods in wet climates or going off-road frequently, then an off-road camper trailer would be best for your needs. If you plan on camping in more temperate climates (dry) then a traditional tent would be better. These tents are made to withstand the elements and are stronger, so they're worth considering if you're concerned about durability. If you're unsure which type of tent is right for your needs, check out our buying guide for all of the details! How big does your family and how many people are going? An off-road camper trailer comes with more fabric and space than a traditional tent. The size of with which these trailers come makes it easy to fit the entire family (or group) in one place. Many trailers offer more than one bedroom which is great if you have children and want them to have their own room! The best part of this is, that you can all sleep in the same tent. You never have to feel like you're separated from each other, especially in the summer months. How many nights will you be staying at the campground? Another thing to consider is how long you'll be camping for. If it's just for one night and then packed back up for storage, then a traditional tent would work better as it takes less time to set up and pack.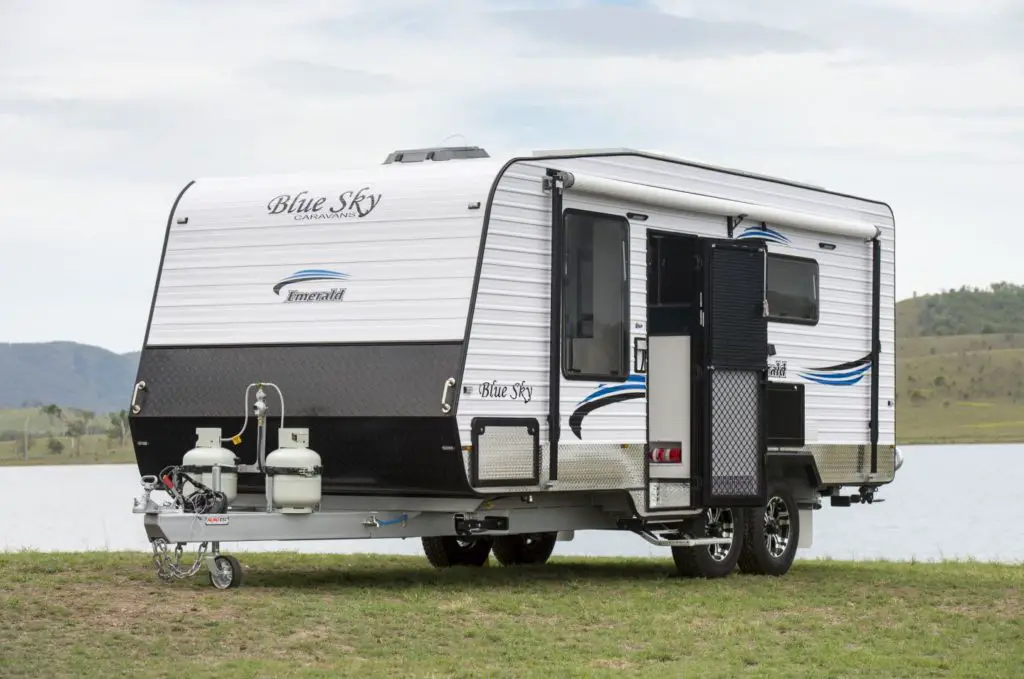 BLUE SKY EMERALD
LONG TERM TRAVEL FOR LESS
Aussie made, packed full of features, five year warranty guarantee, a massive 600kg payload and under $65k – Sunrise's Blue Sky Emerald is all this and more!
UNIQUE FEATURES • 5 YEAR WARRANTY • WHOPPING 600KG PAYLOAD • ELECTRONIC STABILITY CONTROL • 240W OF SOLAR AND 210AH BATTERIES • 6 INCH DRAWBAR AND CHASSIS