What are the Best 4×4 Accessories to Get?
4×4 owners would always want to know what are the best
4×4 accessories
to get in order to improve their vehicles. The first one that comes to mind would be drawers as you can put a bunch of your stuff there. When you have time, you can organize them as things that you could need for camping and other things that you can need for the beach. It really depends on the purpose of the trip. Roof racks are pretty useful because that would be where you would put all those bulky stuff that you would make use of at the right time. For example, you can put your surfboard, tent, and even your spare tire there. Now you will have more space inside the 4×4 for small items that you are planning to bring along which would let you do even more for your trip. In fact, it would be better to make a list a few days before your trip so that you would not forget anything. 
Even if you probably already have it, a smartphone is pretty much needed for your 4×4 trips so make sure that it is fully charged. Besides, you can use it to make sure that you are headed in the right direction to your destination. Add that to the fact that you can also use the smartphone to Google nearby spots where you can shop for stuff that you realized you suddenly need. Don't forget that you can always calculate using a smartphone app when you would probably run out of gas so that you can fuel up your vehicle ahead of time. The last thing you would want to happen is to run out of gas in the middle of nowhere. There will come a time when the smartphone would run out of battery which means you would also need to bring a solar charger along as that would allow you to charge it and the other devices that you brought with you. 
Another accessory that 4×4 owners must get is a 12v fridge. When the road trip turns out to be a bit long, you can stock plenty of drinks in there. You never know when you are going to get a bit thirsty. Plus, when you are a group then the end of the road trip would always call for plenty of beers. It would always feel great when you finally get to your destination and what better way to celebrate than to drink beers. The good news is that the beers are all cold when they are inside the fridge. Of course, it would also be possible to store food inside your ref. Another thing to bring would be spare tires that are pretty huge. After all, you never really know if your tire would suddenly get flat. Don't forget to know how you would change tires as that would allow you to know a lot more stuff as a driver and you would not regret it one bit.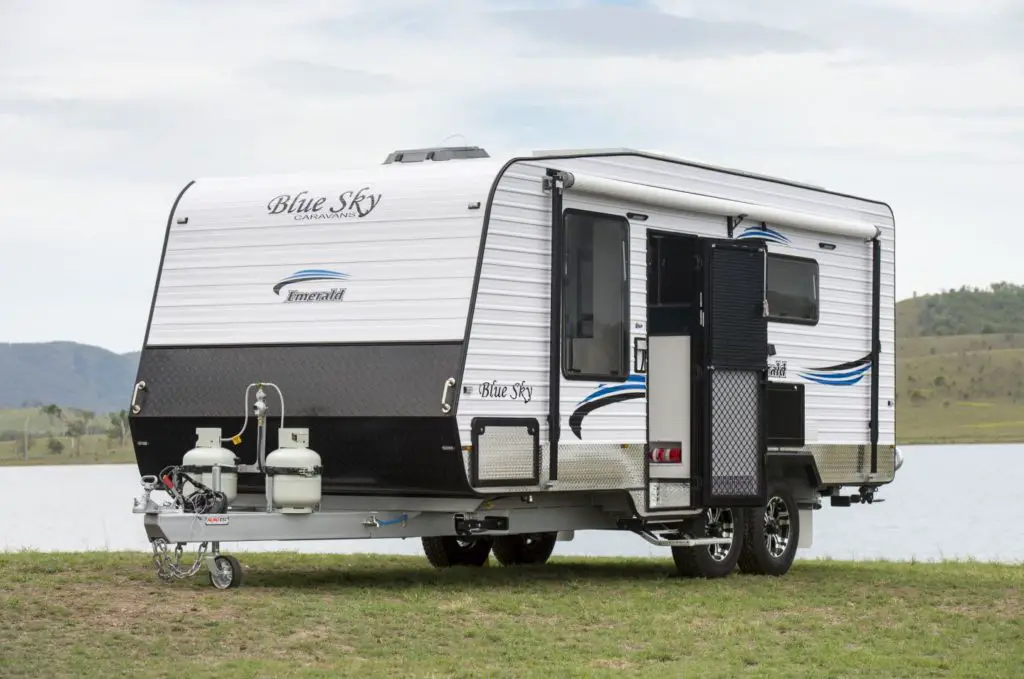 BLUE SKY EMERALD
LONG TERM TRAVEL FOR LESS
Aussie made, packed full of features, five year warranty guarantee, a massive 600kg payload and under $65k – Sunrise's Blue Sky Emerald is all this and more!
UNIQUE FEATURES • 5 YEAR WARRANTY • WHOPPING 600KG PAYLOAD • ELECTRONIC STABILITY CONTROL • 240W OF SOLAR AND 210AH BATTERIES • 6 INCH DRAWBAR AND CHASSIS