THE TRUE COST OF TRAVEL
60 passionate RVers share their real-world advice on how to see our country for less
WORDS BY JOHNATHON PULLEN PHOTOGRAPHY BY CARAVAN AND MOTORHOME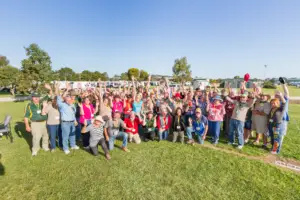 If you're anything like us, the two biggest barriers to RV travel is time and money. As the years go by, finding time becomes easier. However, there's no escaping the fact that travel costs money, but what is exactly is the cost? And how do you make it cheaper? These are burning questions within our community, so we sought to find the answers.
Getting these answers were by no means a simple task – Caravan and Motorhome took on the biggest real-world test we've ever done! We gathered 60 of Australia's most passionate and experience travellers to journey from their home towns to the ACC National Muster in Lucindale, SA. All up they covered over 100,000km, and stayed at countless RV Parks and free camps, just to bring you the tip and tricks you need to know about saving money. You won't believe what we found! Let's check it out.
OUR RVERS
To get the facts, figures and definitive answers on the true cost of travel, plus a whole heap of tips on how to make it cheaper, we enlisted the help of four tag-a-long groups of RVers on their way to the ACC Chairman's Muster in Lucindale. These groups travelled from all parts of the country to get to South Australia. Let's hear from the trip leaders about the routes chosen.
TOM & SANDRA SMITH
Free camping, Sydney to Lucindale
Tom led a 10-van-strong group of caravans on a sensational bush camping trip through NSW. Leaving Sydney, the 'Northern Bushwhackers' travelled south, staying solely at free camps at Pilliga, Tottenham, Lake Cargelligo, Wakool Reserve, and Stawell.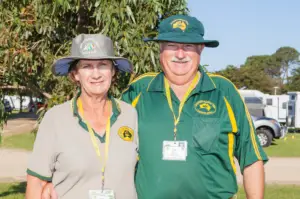 RON & SYLVIA MCGRICE
Caravan and tourist parks, Brisbane to Lucindale
This convoy stayed at some of the best RV Parks QLD, NSW, VIC had to offer. Starting from Brisbane, they stayed at a number towns including Clifton, Tenterfield, Coonabarabran, Narrandera and Horsham.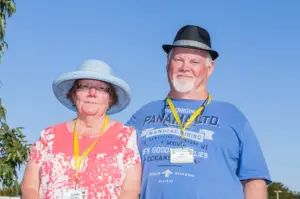 BRIAN & MARIA MINCHIN
50/50 travel, Perth to Lucindale
Maria and Brian had a huge group of RVers cross the Nullarbor and continue east from Perth. Many were WA locals, but some thought it would be an ideal way to come back east after a long stint exploring the west. The 'Swan River Rovers' stayed at free camps when possible, but were happy to stay in a tourist park if it was convenient.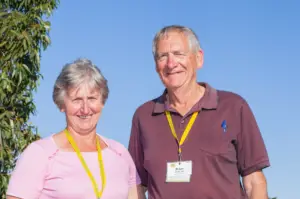 GAVIN & DENISE WENHAM
Free camping, Sydney to Lucindale
The 'Sydney City Slickers' hit the road from Sydney and found their own unique way to head south to Lucindale. Free camps along the way included Carcoar Dam, Yalgogrin Rest, Sandy Point in Hay, and Manangatang. Talk about turning a long drive into a holiday in its own right!
FREE CAMPING – THE TRUE COST SAVER
Today, free camping has fast become the go-to method of RVing for countless travellers. Many are attracted to the natural bush surrounds and ease of access associated with free camping, but the prospect of saving money is equally attractive.
With its new-found popularity many travellers are quick to recognise free camping as the more affordable option, but what are the hidden costs of free camping that might slip under your radar – and how can you avoid them? Our survey revealed when travellers unexpectedly felt the pinch and how they intend to avoid it in the future.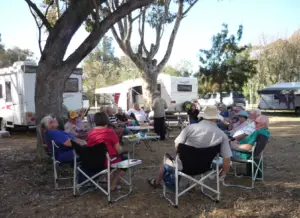 WHY FREE CAMP?
COST: "The savings in accommodation are unmatched; we estimate we saved enough to pay for a full 125L tank of diesel" – Ray Cornell
SURROUNDINGS: "We bush camped the whole way down and enjoyed the surrounds. Free camps just have the atmosphere, with camp fires and starlit skies" – Tom Smith
FREEDOM: "It's a spectacular feeling to move unchained from place to place and set up as you please. It's even better when you have the space to move on without bothering others with your noise" – Jack & Mary Lacey
CONVENIENCE: "There are two kinds of people in this world, people that free camp for pleasure and people that camp for convenience. To us, the ability to pull up for a night when necessity requires it and enjoy little to zero cost accommodation is priceless" – Sonja & George Karsai
CAMARADERIE: "Another free camper came over and told us there was water leaking out of our hot water system. Almost immediately other campers were over fixing it. That's the beautiful thing about free camping; you've got such a variety of people with the willingness to help one another" – Christine Fielder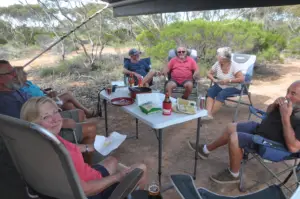 PLAN AHEAD
Even though the amount of financial preparation and budget planning differed radically amongst travellers surveyed, there was one thing from which all benefited greatly: the preplanning of free camp stops with the help of Camps 7 and Wikicamps.
These invaluable sources of information give you direct coordinates of the best free camps, the amenities and features of the camps, and in the instance of the digital Wikicamps, recent reviews and aggregated ratings from fellow travellers. Everyone agreed that planning ahead helped to save time, money and effort.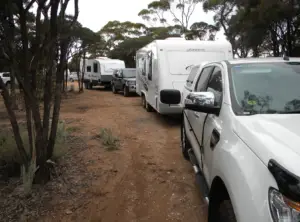 WHEN FREE CAMPING COSTS YOU MORE
One couple travelling from Hervey Bay, QLD was en route to a free camp for the night, only to find that a recent ruling by the local council meant they were not permitted to stay with their three border collies. The local park was also not pet friendly, so they were forced to travel over 70km to reach the next free camp. At an average of $1.60 per litre for fuel, the unexpected detour wound up costing the pair nearly $30 – almost equalling a nightly park fee.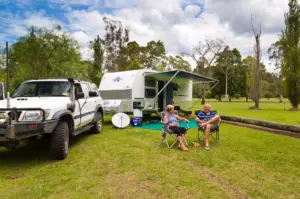 FREE CAMPING TIPS WITH MARG
Obviously the main advantage to free camping is that you don't have to pay any accommodation fees! But apart from that, the main way you can save is by managing your food and water. Plan your needs ahead of time so you're not making a run to town to stock up. Take a camp oven with you, and use locally sourced firewood (when permitted) for cooking, as a cost-free source of fuel.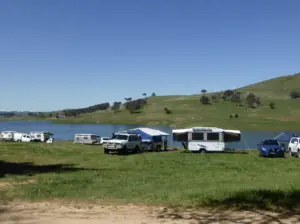 MEASURABLE SAVINGS
This was our first time free camping and, over a short week, we estimate we saved enough to pay for a full 125L tank of diesel! After trying free camps, we think we'll be staying in them roughly 50 percent of the time from now on.
Ray and Bev Cornall
FREE CAMP AND DOUBLE YOUR TRAVELS
Free camping, to me, means a lot more saving on the road and that means I can afford two trips in close succession. Park stays, on the other hand, require you to be a lot stricter with budgeting. This means a far shorter second trip that might even run the risk of a budget blow out.
MODIFY AND SAVE
Within our survey group there was a reasonable balance between vanners who decided to include free camping modifications in their van's manufacturing process and vanners who made the changes afterwards. Whichever you prefer, van, and tow rig modifications allow you to free camp for longer, save on fuel and meet energy requirements more economically. Mods like solar panels, washing machines, extra batteries and LED lights mean you can take full advantage of unpowered sites and radically slash costs. It's worth noting that having modifications included in the manufacturing process will cover you under warranty and give you a complete rig off the factory floor. However, if you have the skills to install them yourself, after-market mods might save you a handsome sum.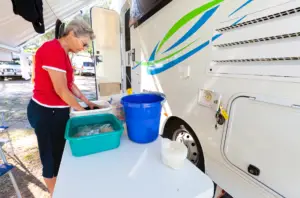 CARAVAN AND TOURIST PARKS – THEY DON'T HAVE TO COST A FORTUNE
Australian travellers can truly count their blessings when they hit the road. Not only are some of the most mesmerizing destinations in the world going to be at the doorstep, they will find a wealth of caravan parks along the way to provide wants, needs and basic requirements.
It's no secret that there is currently some tension between park owners and pro-free camp groups, but what are the facts versus fiction when it comes to travellers' experiences of tourist parks? Our research reveals some interesting results!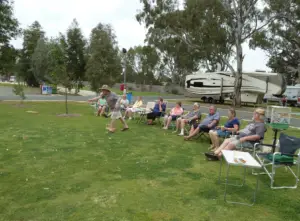 WHY PARK STAY?
CONVENIENCE: "There's nothing better than being able to relax with air-con on full blast and not have to worry about power or water consumption; caravan parks mean peace of mind" – Joy Mayhew
SECURITY: "We like the safety and security of caravan parks – we always feel more comfortable and secure and it gives you a lot more peace of mind to be able to leave your van in a park instead of a camp" – Nev & Jo
HYGIENE: "Even free campers have to admit that spotless amenities are a sight for sore eyes. Caravan parks mean longer showers, a van wash, a dog wash and enjoyment of level, well-maintained ground" – George Carot
HOSPITALITY: "Caravan park owners want you to return to their park and we feel that more often than not, they enjoy your company! Damper cook-offs, BBQs and pancake brekkies – always graciously provided at no extra expense to you" – Indi Vail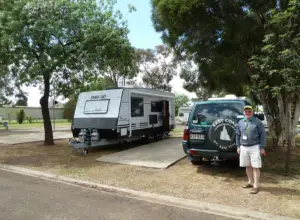 GET BETTER FUEL ECONOMY
When it comes to a tourist-parkonly trip, one of the most important things you can do to recover some losses from park fees is to take greater control over your fuel consumption. Here are a few tips on how to move from park to park more efficiently.
PACK LIGHT
Bring only what you need. A lighter van load means less strain on your tow vehicle. You might think you're saving by packing food before you leave, but that added weight might cost you more than you save on groceries!
EMPTY THE TANKS
The average water tank size is between 80 and 90kg and that water is going to serve no purpose on a journey where water is available. Keep the tanks empty until you arrive to keep your overall weight down.
DRIVE CONSERVATIVELY
It might sound like a no-brainer but at the end of the day, your driving style from camp to camp is going to have the greatest effect on your fuel consumption. Go easy on the turns, maintain a consistent 85-90km where possible and refrain from fast acceleration.
REGISTER IN ADVANCE
Touring interstate? Remember that you can have your vehicle inspected and registered up to three months before its due date – take advantage of this and avoid unexpected high costs.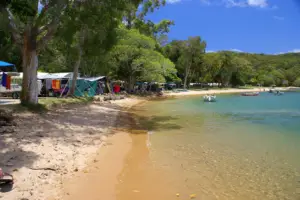 HOW TO MAKE PARK STAYS CHEAPER
YOU DON'T ASK, YOU DON'T GET
Always ask for discounts for multiple night stays. As long as you ask politely, you'd be surprised how many parks are willing to accommodate – especially if you show your seniors card.
USE UNPOWERED SITES
Over 80 per cent of vanners surveyed have had vans modified for self-sustainable camping. If you are one of them, opt for unpowered sites and save a small fortune over time.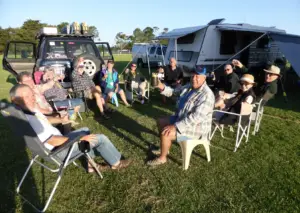 MAXIMISE YOUR DOLLAR
Get complete value for your dollar and use all park facilities to which you are entitled – wash the van, clean your clothes, fill the tanks and recharge all of your electrical equipment.
AVOID TRAVELLING IN HARSH WEATHER
Harsh weather conditions like strong headwinds and excessive heat can put additional strain on your engine, costing you radically more with fuel. Try to travel on mild to moderate days.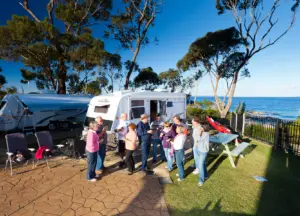 50/50 TRAVEL – IS HAVING THE RIGHT MIX YOUR TICKET TO CHEAP ADVENTURE?
THE PERKS OF 50/50 CAMPING
The 50/50 approach to camping allows travellers to enjoy the best of both worlds. Campers still budget for an outlay at parks but can cut accommodation costs by 50% or more by balancing stays with free camps. Many vanners surveyed find free camps convenient for overnight stops. This 'stepping stone' approach between parks is becoming more and more common amongst travellers. It's not just travellers that enjoy this balanced camping style, either. More and more regional communities are offering centralised free camping to complement local tourist park businesses, with travellers happy to alternate between the two when given the choice. Finally, 50/50 campers are customising their RVs for free camping, which allows them to utilise unpowered sites and be pickier when it comes to choosing a caravan park!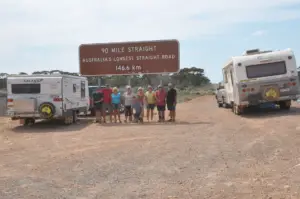 SHOWGROUNDS
Showgrounds are widely considered to be the financial "halfway house" of camping. They offer a way for 50/50 campers to offset some of their costs while enjoying many of the services of a van park. The extent and quality of amenities varies greatly, but usually a showground will be cheaper. Places like Burra in SA and Kendall in NSW welcome people travelling through for short stays. It's possible to save more than half of your usual costs with this method!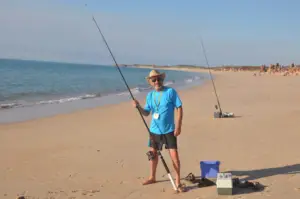 INVESTING IN THE LOCAL COMMUNITIES
If there's one thing that travellers like to do, wherever they choose to set up, it's spending a few dollars to keep the local economy healthy. On average, we found travellers would spend around $200 per week on local attractions and services – and there is an even greater benefit to regional towns when RV tagalong groups stop by. It was highly informative to hear the opinions of both free campers and those who always stayed in tourist parks, and have both schools of thought confirmed by our 50/50 campers.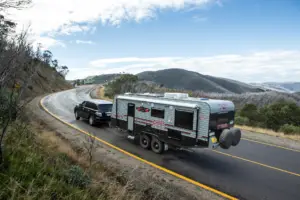 FREEDOM CAMPERS
Our most prevalent feedback from free campers was their willingness to inject dollars saved by free camping into local communities. They spent money on anything from necessities like groceries and fuel to luxuries like cakes, coffee, meals out and keepsakes. 98 per cent of free campers agreed that when towns support free camping, travellers are obliged to reinvest some of their savings in the region.
TOURIST PARK CAMPERS
Approximately 78 per cent of travellers who always stayed in tourist parks told us they felt they had a responsibility to support local communities and businesses. Those surveyed frequently referred to the peace of mind they felt in being able to leave the van unattended at a park, allowing them to explore the town's attractions and businesses at leisure.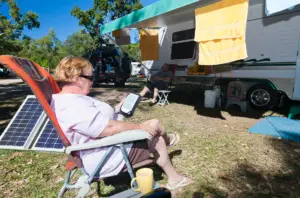 FLEXIBLE CAMPING TIPS
50/50 campers can save by offsetting the cost of caravan parks in different ways. When you're planning a quick overnight stop just to reduce the distance travelled, use a free camp. Even with the most basic setup you can manage one night! If you want to stay in a popular caravan park, where the fees might be a bit high, plan a few days of free camping either side to even out costs. Finally, 50/50 campers are ideally placed to average out costs across a whole trip to keep to a budget.
SAVE DOCKETS, SAVE FUEL
Saving the receipts from Coles and Woollies makes a big difference when you add up all of the included fuel discounts. It might not be same over a short free camping trip, but when you're on an extensive tour, those dockets make the cost of fuel exponentially better – it all adds up.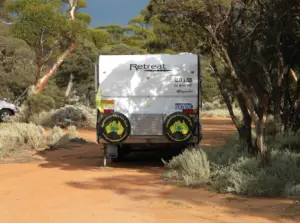 PRE-PREPARING FOOD
No matter which touring method you prefer, the preparation of food prior to setting off will give you far greater control of your finances. When 50/50 camping, your reserves will ensure that you are always ready for an overnight stop in a remote area.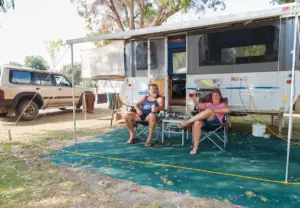 TRAVELLING WITH KIDS
Travelling families are always budget conscious, whether they are full-time travellers, weekenders or school holiday campers. Most families travel for the experiences they can provide for their children and the memories that can be made within the budget that they live by. My husband Corey and I choose a healthy balance between both freedom camping and caravan parks as together they offer diverse natural and social experiences, as well better control of our budget.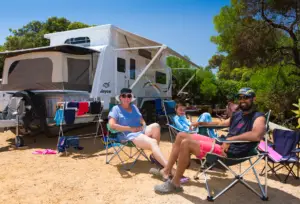 CARAVAN PARKS
Caravan parks these days offer so much for children that freedom camps don't – jumping pillows, pools, water parks, bike paths, mini golf and scheduled activities. On school holidays you will find there are lots of families joining in, as it's a vital way for children to meet others in their age group and it gives everyone in the family a chance to relax. The cost of staying in parks that offer all these activities can be high, but when you offset these fees with free camping it becomes manageable. It can become expensive if you have lots of children and you are required to pay per head per night. If this sounds like you, you might want to put your bartering cap on. The benefits of staying in a park are not only the activities, but also that you have access to amenities at all times – water, power (air-conditioning), and so you can really ensure your family enjoys all the comforts of home.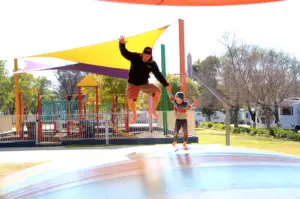 FREE CAMPING
Our family of three frequent many campgrounds that have minimal or no fees, so we can provide a broader experience for our child. We like being able to pick where we want to go, and since we are fully selfsufficient we can choose spots that other travellers may not be able to. Most times you can have a fire or use your fire pit, which is great for roasting marshmallows and cooking as well as for saving money on gas usage. If you are camping near a beach or river you can save on water by taking a quick dip, so you can just rinse off instead of taking full showers.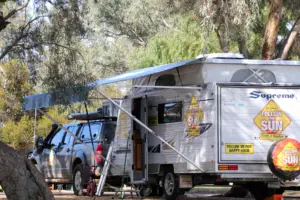 When free camping, since you are not directly beside people, you're not so conscious of the kids making a noise, and there is always a different 'feeling' amongst campers. There are still costs involved in free camping – things such as gas for fridges, cookers, heaters, hot water systems and fuel for generators. The preparation costs for free camping are usually a lot higher. Not only do you need to supply fuel and gas for these extras, you need to buy the actual appliances to begin with. We have purchased a new generator, solar panels, extra gas bottles and jerry cans and it does all add up. Some freedom camps may be 'free' in the sense that you don't pay an overnight fee, but others may charge a fee, depending on their facilities.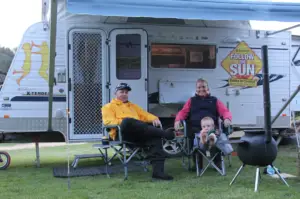 TRAVELLING WITH PETS
PARKS WITH PETS AT HEART
Some park owners around Australia, like us, are pet lovers, and so provide facilities to help keep our pets happy. Boomerang Way Tourist Park in Tocumwal, NSW is one such caravan park.
Owners Craig and Claire Allan Claire came up with the idea of building a dog run at the back of the park to help the dogs run off some of that pent-up energy. At a cost to themselves of $2000 they fenced off a grassed area with shady trees along the fence line and added a water point and a few toys.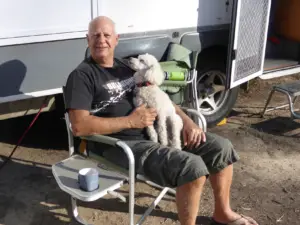 All types of dogs are allowed to use the dog run as long as they are with their owners at all times. The bonus is that the dog run is a great social spot for travellers, too!
When planning your next destination, research pet friendly parks and call ahead to see if your dollar stretches to properly accommodate your furry friend as well.
EXPERT ADVICE
With Trina Morris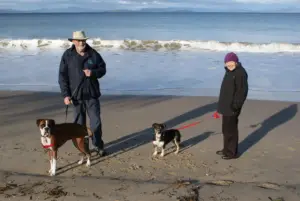 Camping in a remote area requires good equipment but also great organising, especially if travelling with a pet. Training is essential. Your pets must be happy to stay home alone in the caravan all day while you're out exploring national parks or other non-pet-friendly places. Our dog is very content to do this… without shredding the van or barking the neighbours into a rage! We have installed a security mesh door on our van which, apart from the obvious benefits, ensures we can leave Drummer inside the rig unattended in security and safety. A theft-proof door can be left open for air and windows can be left ajar thanks to a open 'lockout' setting – this gives Drummer plenty of ventilation, and he is much happier in his own home than being boarded in unfamiliar kennels for the day… If there are any in the vicinity, that is!
WHAT WE'VE LEARNED
SO WHAT'S CHEAPER
There's no doubt that staying solely in free camps is the cheapest way to travel the country. However, it comes with a significant initial investment in gear like solar panels or washing machines, and in some part of the country it's just not practical to travel up to 100km extra just to stay somewhere for free.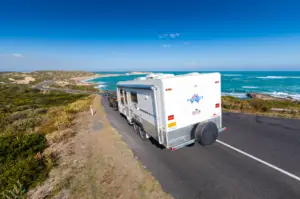 In addition, RV parks often offer experiences, facilities, and a convenience you won't find anywhere else. The easiest and most economical way to travel the country is finding the right mix of both to suit your style of touring. For some, that might mean a 70% RV park, 30% free camp mix, and the opposite balance for others. Either way, the right mix will lower your accommodation costs, while still giving you the option of freshening up in a tourist park. Having your RV optimised for free camping means you can be picky about the locations at which you splurge and stay at tourist parks.
TO BUDGET OR NOT? 
The results showed that a good number of nomads surveyed didn't set a budget for their trip to Lucindale. Whether it's the fact that the trip was planned so well by tag-a-long leaders, or they're more focused on enjoying themselves than pinching pennies, it raises a really good point – as RVers, should we budget?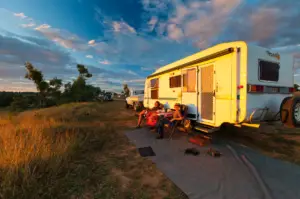 The obvious benefit of budgeting is that you are all but guaranteed to save money. Prioritising your dollars and allocating a set amount to each aspect of travel will cut down on wasted money, but that can come at a cost to your lifestyle. The goal is simple – don't let your cost-cutting get in the way of the laid-back lifestyle that was the reason you bought your caravan in the first place. That said, we've shown over 30 really simple ways you can slash your travel bill. The result – more money back in your pocket and more fun!