SUNRISE BLUE SKY GRANDEUR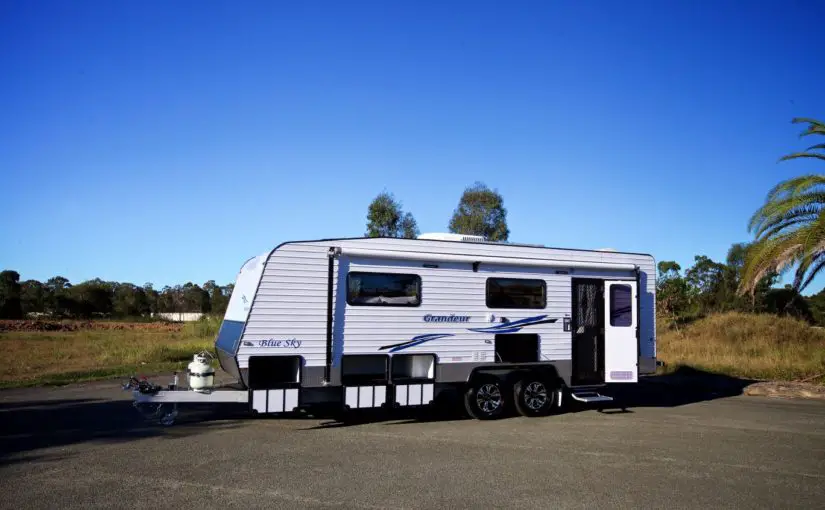 An innovative layout, superior construction and affordability make the Blue Sky Grandeur a top quality long-term tourer.
When you buy from Sunrise Caravans, you're not just getting a new RV – you're getting a lifelong commitment to quality and customer service. Steve Andonovski and his family, who own and run the business, pride themselves on delivering exceptional service and RVs every time. Unlike other companies, a call to Sunrise Caravans will also put you straight on the phone to the business owner – not a representative or call centre operator. This means that any accidents on the road will be handled by the owners, who will personally organise a repairer. This peace of mind and quality assurance is the reason Sunrise Caravans won the Gold Award for Excellence in Customer Service in 2013. It's also the reason why so many RVers are turning to Sunrise Caravans for their new RV.
One of the newest vans to join the Sunrise fleet is the Blue Sky Grandeur. This van has been perfectly created to suit long-term tourers, with exceptional power and water capabilities included – all at an affordable price. Manufactured on a small scale, like the rest of the fleet, the Blue Sky Grandeur has been subject to an intensive quality control process – meaning everything from the wheel alignment to the air conditioning has been examined to meet their high standards. When you buy a Blue Sky Grandeur, you know you're getting the best.
UNIQUE FEATURES
• EAST-WEST FACING BED ALLOWING MAXIMUM USE OF STORAGE
• 5 YEAR WARRANTY ON VAN AND SELECTED APPLIANCES
• ONE OF THE LARGEST SHOWERS ON THE MARKET
• 600KG PAYLOAD
• SPACIOUS EXTERNAL STORAGE
Read complete review