PRAWN FARMING IN NORTH QLD OUTSIDE THE BOX
Here's a perfect example for those looking for a unique style of work on the road – it doesn't get much more unique than a prawn farm!
WORDS BY JANNE HARDY PHOTOGRAPHY BY GEOFF HARDY
Have you ever thought of living the RV dream in an active sort of way? You know: sleeves up, head down, making a difference? Read on to find out how this sort of life can lead you along paths you never thought you'd tread. Who would have thought that a conversation in a field with a cattle farmer at Stuarts Point in Northern NSW would translate into a job farming prawns in North Queensland? If you're alert for opportunities, it could happen to you.
The usual reason for travel is that people are looking for new experiences, but we acknowledge that the experiences we're looking for might be a little different. We actually get sick of not working!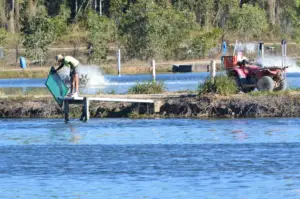 We love our full time life on the road, but we find that we can only travel, sightsee, read and go to happy hour so many times before we need something to challenge us. That's when we take jobs and volunteer positions along the way or live in remote communities and try to make a difference – not only to these communities, which desperately need workers, but also to ourselves. The sense of achievement learning new things is enormous… these old dogs have learnt loads of new tricks!
Let's backtrack to see how all this started, back in NSW four years ago. We're in the paddock and the farmer says, "We have no jobs around here but my son in North Queensland is always looking for willing workers…here's his number, ring him if you're ever up there." Nine months later in Cardwell, we rang that number. We started at the prawn farm the next day and now we're back for a second three-month stint, raising the Christmas crop for sale in the big supermarkets.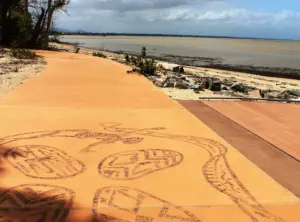 The work is seasonal and the locals are more interested in having full time jobs around town, so that's where nomads come in handy.
Now I'm a journo by trade so I stress to RVers that you have to throw away the concept that because you've never done something before, you can't do it. Yes, you can! As long as you are physically able, you can learn anything. In fact employers often prefer people they can train from scratch. More and more, we are finding that rural communities rely on Nomads and their work ethic to get them through seasonal work.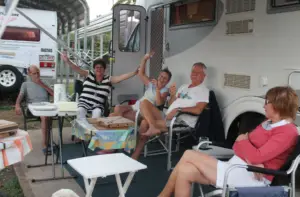 Here's a tip from someone who is on the road full time: if you're working you need to be comfortable. We come home very dirty, so to preserve our bathroom we need a caravan park with good amenities and a laundry to wash our work wear. We have that at the Beachcomber Caravan Park in Cardwell, an idyllic place with a resort pool. We just have to go out the front to watch Schnappy the crocodile cruise along the stunning but unusable beach, with ethereal Hinchinbrook Island as a backdrop. There's a top class bar here with happy hour daily and a great restaurant. It's about work-life balance… you've got to live a little.
To whet your nomad appetite for adventure I will fill you in on my job on the Prawn Farm and just what a 68-year-old bird can do when she retires from the confines of an office. And while you're reading put yourself in my place, because you can do it too.
There is a lot of prawn farming in Australia and there's about to be a lot more. At our farm there are 48 ponds spread over about 1 hectare and next door there are another 60. A strong current wafts around each pond, created by about 10 paddlewheel and aerator units positioned in the water.
Our induction included information on what to do if you encounter deadly snakes like taipans, browns, night tigers and death adders during your work; information on stingers in the water; how to act when confronted by a wild pig and how fast you should run when you see a Cassowary or a crocodile. My entire working life never prepared me for any of the above, but happily the biggest thing I've had to contend with is the odd giant mud crab – which, tragically, I have had to throw back as there wasn't room for both of us on the quad bike. Oh, there were quad bike safety lessons too!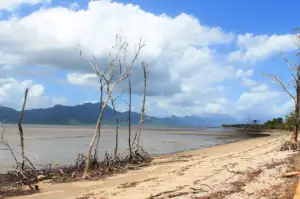 Seeing that we hadn't bolted in fear after the induction, we were given safety gear and taken out on the ponds to learn our jobs. Geoff is feeding and I am test feeding. I'll explain.
The prawns are fed four times a day on different grades of pellets. If they don't get enough food they don't grow and some types of prawns will start to eat their neighbours. This is a less than ideal situation. Conversely, if they are fed too much and don't eat it all, the rotting food encourages the growth of micro-organisms like algae which use up the oxygen in the water and the prawns die which further encourages the algae and round it goes…this needs to be nipped in the bud with reduced feeding.
My job is to determine how much the Prawn People are eating to determine what to feed them next time.
I lower nearly 100 mesh-covered, 90 cm square trays into the ponds, one on each end. On each of the trays I put a percentage of the feed that Geoff has just sprayed over the pond's surface from a blower on his hopper truck. That takes about 2 hours, stopping at each little wharf, test feeding then moving on: very energetic! And you use even more energy when you return after two hours to pull the trays up against the swirling current to see if the prawns have eaten everything – or if not, what percentage they have eaten. This determines whether the next feed is bigger or smaller to keep the pond balance right.
Scientists are testing the water in the ponds all day as well as at night and it is fascinating to see the organisms in the water under the microscope. You really get focused on the whole process. We love the birdlife too. Night Herons, Striaited Herons, Jabiru, Egrets, Stilts with their little helium voices and skinny red legs, Crested Terns and Cormorants to name a few… oh, and the dive bombing Curlews. Ouch! They nest right next to the ponds and the chicks are adorable.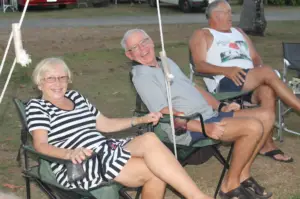 I love the prawns. I find it satisfying watching them grow, sad watching them die and delicious when we sample the harvest. I'm sure it would be the same if you grew beef or pumpkins.
The money you make in rural areas is not usually great but we don't work so much for the money; we need to feel useful. Engaged. We need to learn new things, to become part of a community for a while and most importantly, to meet and become friends with new people.
We have made wonderful friends all over Australia. Here in Cardwell we talk every day with our thoughtful hosts at the caravan park, Sandy and Graham. They juggle our mail, and when I had an operation on my foot, they brought me a pool lounge for the annexe so I could lie in the breeze.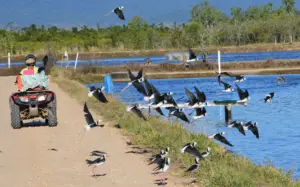 The gardener here, Louise is awesome and sort of part of our family now. She made sure we joined the mob for carols by candlelight and brings us green coconuts for the delicious coconut water. The scientists that work here are Columbian, Indian, Philipino and Australian, and the guys who swim the ponds to install aerators and paddlewheels, ignoring the possibility of crocs and stingers, are a delight.
While other people are paying for quad bike tours, I get paid to drive a quad bike. I drive around the silvery, beautiful ponds with their lace-like plumes of glistening water. They're filled with my prawn friends and behind them lies Hinchinbrook Island with fluffy clouds that cling to its towering 1000m peaks. I mean, why wouldn't you work here?