How to: Manage Weight Distribution
Words and diagrams by Joseph Van Woerkom
Photography by Caravan & Motorhome on Tour
Just like GVM and GCM, GTM and ATM are mass limits that must not be exceeded if you wish to remain legal and safe on the road. If your caravan exceeds these limits you could be up for a costly fine, void your insurance conditions and make your rig unsafe for travel.
Many people are guilty of taking far too much with them on any caravanning trip and when they go free camping they tend to take even more. This is because of the general lack of facilities and the need to be more self-reliant.
However, unless you are going to remote areas that don't have ready access to food supplies, there is really no need to take a huge amount of food with you. A couple of days supply should really be sufficient. Buying your food regularly supports the local businesses and also gives you fresher food to boot!
One week's supply clothing will normally suffice, unless of course your travels will encounter extremes of temperatures in which case you will need at least one set of clothes for each extreme.
Tools are one area that can usually do with a bit of trimming. Often the more self-reliant of us bring all sorts of tools on the 'off chance' that they might be needed. But do you really need to bring a piston ring compressor or a full set of taps and dies with you?
Water can also be a contentious issue. While travelling with full water tanks is recommended as it keeps the centre of gravity down low to aid stability, it can obviously add a lot of weight.
TARE MASS
Tare Mass is what the caravan should weigh when delivered from the factory, together with any optional accessories installed. However, by law it should exclude the gas in any installed gas bottles or water in any of the installed water tanks or hot water system.
The only consistent way to achieve an accurate Tare Mass for any new caravan, whether it is fitted with any dealer accessories or not, is to put in on a weighbridge. This weight should then be recorded as the Tare Mass on the caravan's compliance plate. Unfortunately, there is plenty of anecdotal evidence around to suggest that all too often the Tare Mass on the compliance plate is much lighter than the actual weight measured by a weighbridge.
AGGREGATE TRAILER MASS
At the other end of the scale is the ATM, an acronym that stands for Aggregate Trailer Mass. Unlike Tare Mass, ATM is a mass limit instead of an actual weight, and is the maximum that the caravan is allowed to weigh when fully laden. By law the ATM must appear on the caravan's compliance plate.
The difference between ATM and Tare Mass is the maximum payload that can be legally stowed within the caravan, including gas and water. Manufacturers usually allow payloads of around 300kg for a single axle van and around 400kg for a tandem axle van.
While 300kg or 400kg might sound like a lot, remember than water is heavy, with a litre weighing 1kg. If you have two standard 85L water tanks giving a total capacity of 170L, you could have used up half your payload just carrying water around.
Accessories like rollup awnings, deep cycle batteries, hot water systems and air conditioning can also add significant weight. This is why it is vital to have an accurate Tare Mass, especially if you have purchased a new van with the accessories installed before delivery. If the Tare Mass does not take these accessories into account you could easily loose 100kg or more (one-third) of your theoretical payload.
GROSS TRAILER MASS
GTM is an acronym that stands for Gross Trailer Mass. Like ATM, GTM is a mass limit, not an actual weight, and is the maximum allowable weight that can be transferred to the road surface via the caravan's suspension, wheels and tyres as measured on a weighbridge. By law the GTM must appear on the caravan's compliance plate.
The GTM must always be less than the ATM because the GTM does not include any weight that is transferred to the tow vehicle (when hitched) or the jockey wheel (when unhitched). In Australia, the GTM is usually set by caravan manufacturers to be about 10% less than the ATM to account for the ball weight that is transferred to the tow vehicle.
The GTM must also be less than the least of the axle (or axle group) capacity and the combined weight ratings of the wheels and tyres since all of these are involved in supporting the load.
However, since ball weight depends upon both the weight of the payload and its distribution, it's possible to be within the GTM but exceed the ATM by having too much weight forward of the caravan's axle. Conversely, it is also possible to be within the ATM and exceed the GTM by having too much weight rearward of the caravan's axle. By law, neither the ATM nor the GTM can be exceeded.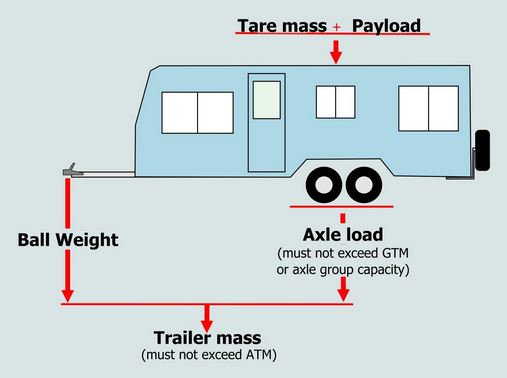 5 EXPERT TIPS: KEEPING YOUR VAN WEIGHT DOWN
Empty everything out of your caravan (including water tanks) and weigh it on a public weighbridge. Record this weight and compare it to the stated Tare Mass – you may find it is 100kg or more heavier than the stated Tare Mass. Subtract the recorded weight from the ATM to determine your actual payload.
To get the best weight distribution put the heaviest items on the floor as close to the axles as practicable with lighter items going backwards, forwards and upwards from there. The idea is that the further the item is from the axles the lighter it should be and the higher up the item the lighter it should be.
Don't add heavy items like generators, air conditioners, toolboxes or extra spare wheels onto the back bumper bar of the caravan. The pendulum effect of this weight can induce trailer sway which, if serious enough, can cause the caravan to jack-knife and possibly roll over the tow vehicle.
Only take what you need instead of what you might like to have. To ensure you stay within your mass limits (see point 1 above), keep a running tally of your payload by weighing everything that you put into the van, including water, clothes and food.
Experts recommend that you travel with full water tanks. Even though this can add a lot of weight, it will also lower the centre of gravity of the van, which makes it much more stable when being towed.
WEIGHT DISTRIBUTION
This means that overhead cupboards should only be used for light items like clothing and that heavy items like food should always be stored down low near the floor.
One problem with new vans is that they often have large front boots, which can swallow a lot of gear. Take care with these though as the allowable weight that can be stowed in them can be very low. One that we saw recently had an enormous front boot but it was rated at only 30kg!