Re: Building My Home Made Caravan by JR
Why build your own,
Cost - get what you want – quality and good workmanship is not always available from caravan manufactures - satisfaction I did it my way.
I wanted a reasonable size full van that could handle rough road conditions yet not to heavy, a single axle and no longer than 7.1mtrs total.
The ensuite needed to have plenty of room in the shower and toilet area and the bed needed to be as comfortable as the bed at home. We are outside people and do most of the cooking on the fire or when on power use the frypan outside so the kitchen size was the area that was a compromise to meet the other requirements. As we have been caravanning a long time we knew exactly what we wanted.
Approach to construction:
I place a lot of importance on making a van that did not look home made.
Stick to convention and use proven products.
Aluminium or wood frame? We have seen all the pros and cons for both I chose wood mainly because I felt I did not have the skilled to build a quality aluminium frame.
Cladding is another item where I stuck to standard aluminium mainly because it is easy to work with and finish off. I do believe some of the newer coverings are better but felt confident working with aluminium sheeting.
Why a single axle,
Our driveway required some manual manoeuvring of the van and also over the years I have managed to get myself into some tight spots that needed the van to be uncoupled and man handled. Hopefully those days are over now but it is very handy to be able to man handle the van.
Also due to the limit in size of the van every bit of space in the van is important so with a single axle less area is taken by mud guards. Auxiliaries like HWS, air compressor and receiver, diesel heater, battery, water pumps and accumulator could be housed in areas that would have normally been taken up by larger mud guards.
Maintenance was also a reason I went for only two wheels as it is simpler to repack two bearings instead of four but this was only a miner consideration.
Disadvantages of two wheels:
Weight distribution is much more critical, and so getting the location of the axle in the right place is very important especially on a van as heavy as this one.
Believe it or not cost can be greater as when supporting 2.6tonne on two wheels require non standard axles wheels and big everything. Chassis design needed extra attention to handling all the weight being transferred to the wheels in one small area of the chassis.
Towing a four wheeled caravan is very stable and a two wheel van can also be stable but never as stable as four wheels.
Stage1 Drawing the Van with PC CAD
Drawing the layout by hand to start with was OK but in time I felt I needed a better way to draw so I went out and bought a $100 drawing program called PC CAD which is compatible with Auto CAD the Rolls Royce of drawing packages. PC CAD drawings can be loaded into Auto CAD which can be an advantage and PC CAD also came with a training tutorial which helps gets you started.
Attachment: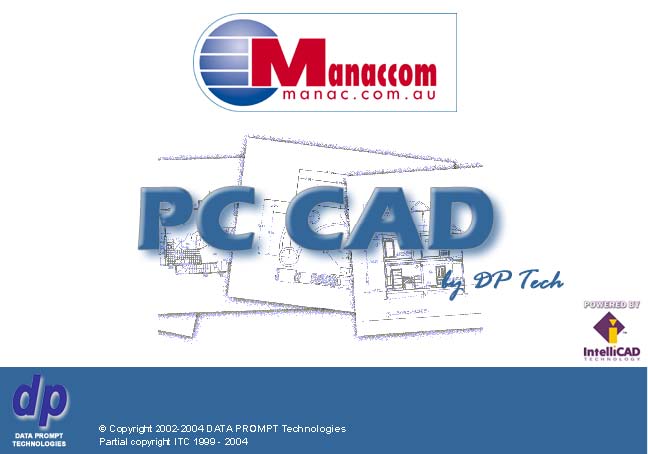 Tutorial_PCCAD.jpg [ 33.28 KiB | Viewed 6447 times ]
CAD will not be for everyone as it takes a lot of time and learning before you can start drawing. Once you have a handle on CAD you can draw the van with so much accuracy that you can make any part you wish and know it will fit when the time comes.
I chose a scale of 0.5mm for my CAD drawing so I could view the entire chassis over 6 or 7mtrs or zoom into a section only 1mm in size if required. When drawing in CAD you use a system of layers and every layer/level can be switched on and off as require, for example, the chassis is one layer the frame is another and the plumbing is another I had about 30 to 40 layers in my drawing.
Floor Plan
The floor plan is the starting point, the best layout for smaller vans with en-suit appeared to be the one with the en-suit in a corner at the rear opposite the door. I wanted a separate shower so the across the back seemed to be the best option but that adds more length to the van. Actually when I decided to run the ensuite across the back I don't think the caravan manufacturing industry had that layout available.
To keep the length down I eliminated the front boot and used the across underneath the bed boot. The second thing I did to keep the length down was to have the entrance door just in front of the wheel and utilise the entrance as an access area to the bed area as well.
Basically the bed is at the front, ensuite across the back, kitchen in the centre with 'L' shaped bench on LHS and stove 150Ltr fridge, microwave and sink on RHS.
The Floor Plan,
Attachment:
Interia Plan.jpg [ 168.54 KiB | Viewed 6447 times ]
The Van Body Shape,
The rear shape was simple just round off the top and bottom and a vertical rear to gain maximum interior user space and also make it easy to fit cupboards to the wall.
The front was not that simple as I needed to have the front more aerodynamic and yet still not hitting my head every time I sat up in bed.
Using CAD made the job easy to work out an optimum bed height, and gain the maximum under boot space and still maintain good aerodynamics.
RHS View
Attachment: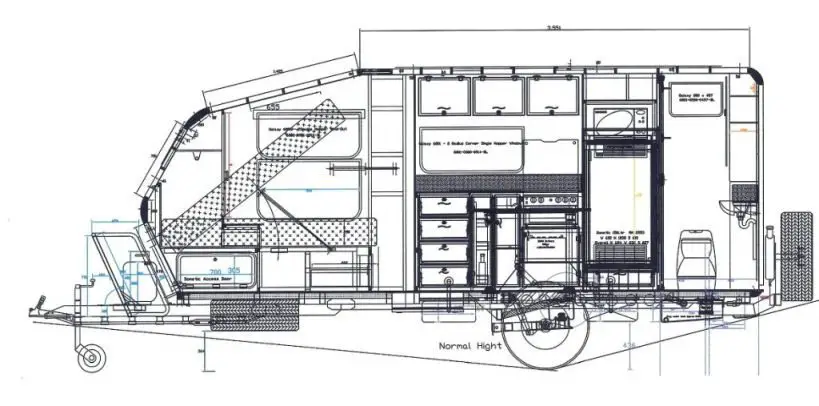 Side View.jpg [ 73.03 KiB | Viewed 6447 times ]
JR