The Essential River Tool Kit
WORDS AND PHOTOS BY CARAVAN & MOTORHOME ON TOUR
A SMALL TOOL BOX WILL PROVE ITS WORTH TIME AND TIME AGAIN
IT'S ONLY A MATTER OF TIME UNTIL YOU PASS ANOTHER NOMAD IN NEED OF SOME ASSISTANCE
It doesn't matter how much servicing and pre-trip preparation we put into our vans and tow vehicles, eventually, every one of us is going to need to do some servicing on the road. Even if it doesn't happen to your vehicle, you can bet it's only a matter of time until you pass another nomad on the side of the road or see them limping into camp, in need of some assistance.
While few of us are qualified mechanics and won't be carrying out any major repairs in a tropical coastal campsite, it's amazing just how many little niggling issues and problems can be sorted on the road with a few basic tools and a couple of hours of work. In many cases, catching small problems and doing something about them – even if it's only a short-term fix – is enough to get you to the next service centre before that seemingly insignificant issue, becomes a costly big fix.
Even better, you really don't need a swag of expensive tools to get you out of trouble most of the time. A small tool box with a few versatile bits and pieces will take up next to no room in your van, and will prove its worth time and time again!
CORDLESS DRILL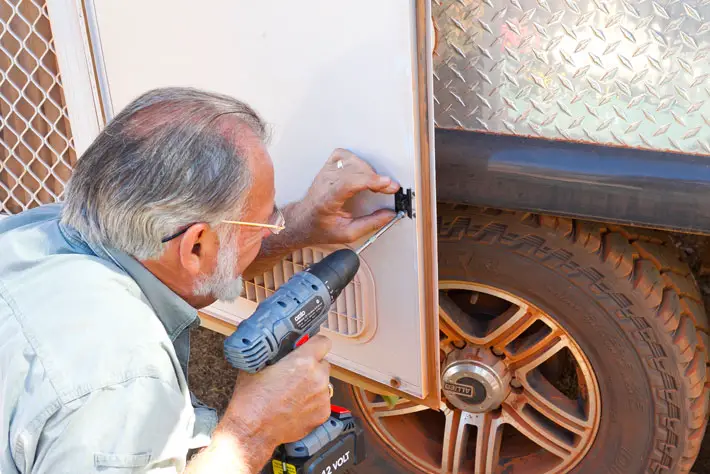 Even though it can be bulky and require a power supply, a cordless drill is a very handy tool to have. In fact, it's probably the only power tool we'd consider a necessity. A cordless drill makes short work of any small internal repairs you need to do, like fixing latches on doors and adding locks to drawers, and it will come in handy in more pressing situations, too. A good tip when travelling with one is to always take the opportunity when you've got mains power to charge its batteries, even if you've barely used it. Topping up a battery as often as possible is important to ensuring you've got enough charge when you actually need it.
SPANNER SET
A quality spanner set is important, and you can pick one up without breaking the bank. You don't need to go all-out on a set of ratchet spanners, as you hopefully won't be doing any strenuous work with them. Here's where a combination set is a good compromise. Ensure you have the common sizes for most nuts on your vehicle and van, and check whether you need metric, imperial, or a mix. Deciding what you need at home is a lot less stress than realising you don't have the right tools when you're broken down on the side of the road.
LUBRICANTS
Apart from engine oil and coolant, what else should be carried when towing your van? A tub of High Temperature Bearing Grease (HTB) is never out of place in a van, while a can of WD40 and Inox are great for getting water out of electrics, loosening rusty bolts, and lubricating things. Everything from a stubborn wheel nut to a squeaky window latch can be fixed up in no time with the right spray.
HAND-HELD LIGHT
Without doubt, hand-held lights are one of the most versatile tools you can carry. They're great at night (obviously) as well as for lighting up nooks and crannies in your engine bay, cupboards and under your van during the day. Many have a magnet or hook which also makes them easy to mount when cooking a BBQ, and provide plenty of light when walking to the amenities block at night. If you regularly have access to mains power, or have plenty of on-board power and a good inverter, a rechargeable lithium model might be best for you. If not, a light that runs on AAA, AA or D batteries could be more suited to your style of travel, as you can stockpile batteries for when they're needed.
TYRE REPAIR KIT
As many of us begin to venture further off bitumen roads in search of more remote camps and attractions, the likelihood of a puncture increases. With many of our rigs having up to eight tyres in contact with the road, if you spend enough time travelling, the chances of getting a puncture are pretty good. A tyre repair kit (and portable air compressor) is good insurance against this. Many punctures can be repaired roadside, allowing you to drive to the next town to find a replacement, rather than incurring a costly tow or call-out for roadside assistance. Be mindful that you will need to inspect repaired tyres more regularly until you have a chance to replace them.
SCREWDRIVER SET
Like spanners, screwdrivers are so handy that you'll find yourself reaching for these more than most other tools. A good tip if you're trying to cut down the number of different tools in your box is to buy a screwdriver with interchangeable heads. Even if you've got a cordless drill, it's still a good idea to carry screwdrivers as some spaces are too tight to fit a drill in. Since screwdrivers need no power source, they are always ready to use.
SHIFTER, MULTI-GRIPS OR PLUMBER'S WRENCH
If you only have room for one of these, a dedicated tow ball wrench is never out of place in your tow vehicle. These are made flat so they save space, however, a plumber's wrench will also work fine. The nut on the towball is too big for most standard spanner sets, but if it vibrates loose, it will put a halt to your entire trip. By having a wrench on board that can tighten this nut, you'll be able keep yourself or other nomads travelling safely no matter where you are.
OTHER ODDS AND ENDS
It's often the cheapest tools that will make the biggest difference, and for this reason we always carry a selection of different cable ties and tapes. Apart from taking up little space, they're so versatile and can be used in so many creative ways to get out of trouble.
Cable ties in different sizes can be used for everything from tidying up wiring to holding doors in place. Self-amalgamating tape is terrific for emergency repairs to hoses until you have a chance to replace them. Duct tape is strong and can create a pretty good water resistant seal in a pinch.
A bolt box with assorted spare nuts, bolts, fuses, washers, self-tapping screws, knife blades and other small-yet-important pieces like that will also earn its keep in your boot. Just don't let this one get too heavy and difficult to lift, otherwise you'll feel inclined to leave it behind!
OUR TOOL KIT
Cordless drill
Spanners
Silicon spray
Stanley knife
Electrical tape
Hand-held light
Hammer
Pliers
Screwdrivers
Tyre repair kit
Vehicle jack
Fuses
Soldering iron
Allen keys
Shifter + multigrips
Duct tape
Self-amalgamating tape
Bolt box
Cable ties
YOUR FAVOURITE TOOL
Do you have a great bush-mechanic trick, or story about a repair you had to carry out on the road? Maybe you've got a really clever use for a certain tool that could help others? Comment your tips below!